A Beach for Every Mood
With 35 miles of America's Best Beaches to choose from, you can have a different beach experience in St. Pete/Clearwater every day of your vacation.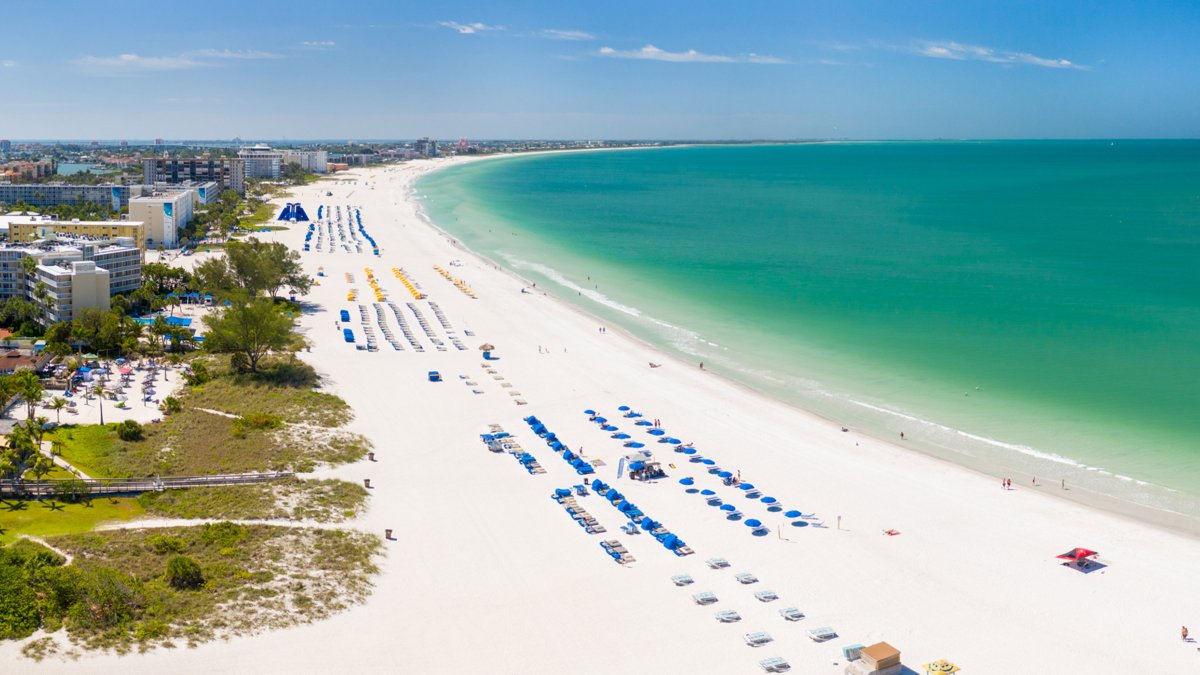 Every beach lover has a favorite kind of beach – whether that's a quiet stretch of sand with swaying sea oats or an active beach with volleyball games, watersports and families playing frisbee. No matter what your beach mood is – you'll find the perfect stretch of sand in St. Pete/Clearwater. Let's get started!
USA Today has just named Clearwater Beach the #1 Beach in the South!
BEACHES FOR SOCIALIZING
Grab your best buds and claim a patch of sand for a fun day at these beaches known for their colorful, happy, always-down-for-socializing vibe.
Clearwater Beach
Beach Vibe: If Clearwater Beach were a person, they'd be a sunkissed, energetic beach lover who'd never met a stranger. This active, social beach is likely to be bustling when you visit – from morning walkers to mid-day beach volleyball games to the Pier 60 sunset celebration each night. With its soft, sugar-white sands and clear blue-green waters, it's no wonder this beach was named Tripadvisor's #1 Beach in the U.S. in 2019, 2018 and 2016.
Insider Tip: See our parking tips to ensure your spot in the sand, or arrive early in the day for easiest access to parking. Plan to enjoy the Pier 60 sunset celebration at least once during your visit – with artisans and entertainers (not to mention amazing sunsets), it's a fan fav.
Madeira Beach
Beach Vibe: Nicknamed "Mad Beach," Madeira Beach can best be summed up as "old Florida beach town," largely because of the influence of rustic landmark John's Pass Village and Boardwalk, just across from the beach. This pretty stretch of sand is Tripadvisor's #9 Beach in the U.S. for 2021!  Park at Archibald Memorial Beach Park or John's Pass Park (both have nice amenities, too). Or try your luck at public beach access points all along Gulf Boulevard from 130th Avenue to 155th Avenue (just be aware that there will be no amenities, such as restrooms, here). 
Insider Tip: Spend the morning at the beach, then head over to John's Pass for a fresh seafood lunch. You can rent a Waverunner here or book a fishing trip, too. To end the day perfectly, take a sunset cruise from the marina.
St. Pete Beach
Beach Vibe: Think of St. Pete Beach as a small-town girl who grew up and went to the city – urban, yet also quaint. Here, the bustling beachfront offers a mix of mom-and-pop businesses and more "glam" beachfront resorts. The beauty of its soft sands and emerald-green waters can't be denied – resulting in St. Pete Beach being named Tripadvisor's #1 Beach in the U.S. in 2021. Choose Upham Beach with its dunes, volleyball nets and jetty at Blind Pass, or the public access at 4700 Gulf Blvd., with its larger parking capacity.
Insider Tip: Your beach day fun doesn't have to end when you've had enough sun – St. Pete Beach offers several open-air beach bars - such as Jimmy B's, PCI Beach Bar, Undertow and Swigwam - where you can relax and enjoy libations with your friends. 
Sunset Beach
Beach Vibe: There's a bit of a backyard party vibe going here – meaning that Sunset Beach is small and friendly. It's known for being an LGBTQ-friendly beach. After some sunshine and a swim, mingle with the locals and enjoy a grouper sandwich and a cold beer at one of several outdoor bars and restaurants nearby.
Insider Tip: Walk the half-mile boardwalk at the end of the island where the Gulf meets Blind Pass to see boats go by and fishermen try their luck.
---
BEACHES FOR FAMILY FUN
Beachgoers of every age will find plenty to love at these family-friendly beaches with plenty of amenities for all.
Fort De Soto Park
Beach Vibe: This is beach nirvana – the kind of place beach vacations were meant to be. Not only is the water at Fort De Soto Park calm, warm and emerald-green, but the sands are soft and white, and the beach seems to go on forever. At low tide, check out the impressive sand bar at North Beach #1 to find shells and sand dollars. You can also rent bikes, surrey bikes or kayaks to explore the park and nearby waters. 
Insider Tip: If you're visiting with kids, stop by the pirate-themed playground. Also, be sure to take them inside the spooky-cool chambers of the fort structure (tell them to call out or sing a song to hear the impressive echo effect).
Honeymoon Island State Park
Beach Vibe: It can get quite lively at Honeymoon Island in the middle of the day, but morning and the golden hour are quiet and serene, particularly if you walk to the northern end of the island, away from the majority of beachgoers. It's a fun place for the whole family - even your "fur children" (Honeymoon Island has a dog beach!)
Insider Tip: The park is open 8 a.m. to sundown, 365 days a year, but that doesn't mean you can't watch sunset from this beautiful spot. Just be sure to pack up and head out after the sun sinks below the horizon.
Redington Shores
Beach Vibe: Marilyn Monroe and Joe DiMaggio vacationed on the sands of Redington Shores once-upon-a-simpler-time. So, pull out your favorite retro swimsuit or New York Yankees cap and spend the day on this tiny 3.5 acre beach with a distinctly local vibe. Most accommodations along the beach are rentals great for families, and the gentle Gulf water is perfect for wading toddlers.
Insider Tip: Find boat rentals, shops and restaurants nearby, or visit the Seaside Seabird Sanctuary to learn about local wildlife.
Treasure Island
Beach Vibe: Treasure Island still has some mom-and-pop accommodations in the mid-century modern style, making this a nostalgic and fun beach stop. The area known by locals as "mid-island" offers a very wide, white-sand beach perfect for flying kites, walking and tossing a frisbee around. There's also a drum circle every Sunday at sunset behind the Bilmar Beach Resort.
Insider Tip: To find a beach access point, look for the bright blue and orange seagull signs (the signage also indicates whether handicapped access and other amenities are available).
---
BEACHES THAT ARE LAID-BACK & NATURAL
If it's a bit of peace and boundless natural beauty you seek, these beaches offer the fresh air, quieter vibes and gorgeous landscapes you crave.
Caladesi Island State Park
Beach Vibe: This perfect little slice of island paradise isn't connected to the mainland, meaning you can expect a serene and pristine environment, particularly if you head over to the side of the island that's far from the marina. It's no wonder this beach has landed on Dr. Beach's top beaches in the U.S. list more than once, including in 2022! There is no development here - though the island does offer restrooms and a snack bar. Pack what you need for your beach day (and be sure to pack it out, too).
Insider Tip: The park is open 8 a.m. to sundown, 365 days a year. Catch the ferry from the Dunedin Causeway or rent a kayak to paddle over to the island (bonus: you'll have the opportunity to explore the island's mangrove tunnels). 
Pass-a-Grille Beach
Beach Vibe: This sleepy little beach community with no high-rises and some colorful, historic Cracker cottages remaining is what some might call "Old Florida" – and its small, dune-lined beachfront has a similarly laid-back atmosphere. Weekdays in off-season, you might have a nice stretch of sand all to yourself – but Pass-a-Grille never gets too crowded since on-street parking limits capacity here. For that peaceful, easy feeling, be sure to settle in the sand a bit north or south of Paradise Grille, where people congregate for food and live music.
Insider Tip: Come for a morning cup of coffee at Paradise Grille, right on the sand - and return at the end of the day for a memorable sunset. You could also choose to watch the sunset from a stellar perch: the rooftop bar at the landmark Hurricane restaurant.
Sand Key Park
Beach Vibe: Just south of busy Clearwater Beach, Sand Key Park is its very pretty but quieter cousin. Head to the north side of this 95-acre park for a gorgeous view of Clearwater Pass and plenty of undeveloped beachfront. If it's a windy day, keep an eye on the jetties, where surfers sometimes find waves big enough to ride.
Insider Tip: After enjoying a few hours of beach bliss, visit the "park" part of Sand Key Park with its nature trail, picnic area, playground and dog park. 
Shell Key Preserve
Beach Vibe: Early mornings, particularly weekdays, you can revel in a castaway island feel – but expect a party-like mood on weekends, when many boats anchor nearby. Access Shell Key by public ferry or rent a boat.
Insider Tip: Be aware that there are no facilities of any kind here - so bring all the essentials and remember to leave only your footprints behind.
sunshine here
More About America's Best Beaches