Current Beach Updates & Conditions
We're walking on sunshine! America's Best Beaches are ready to welcome you.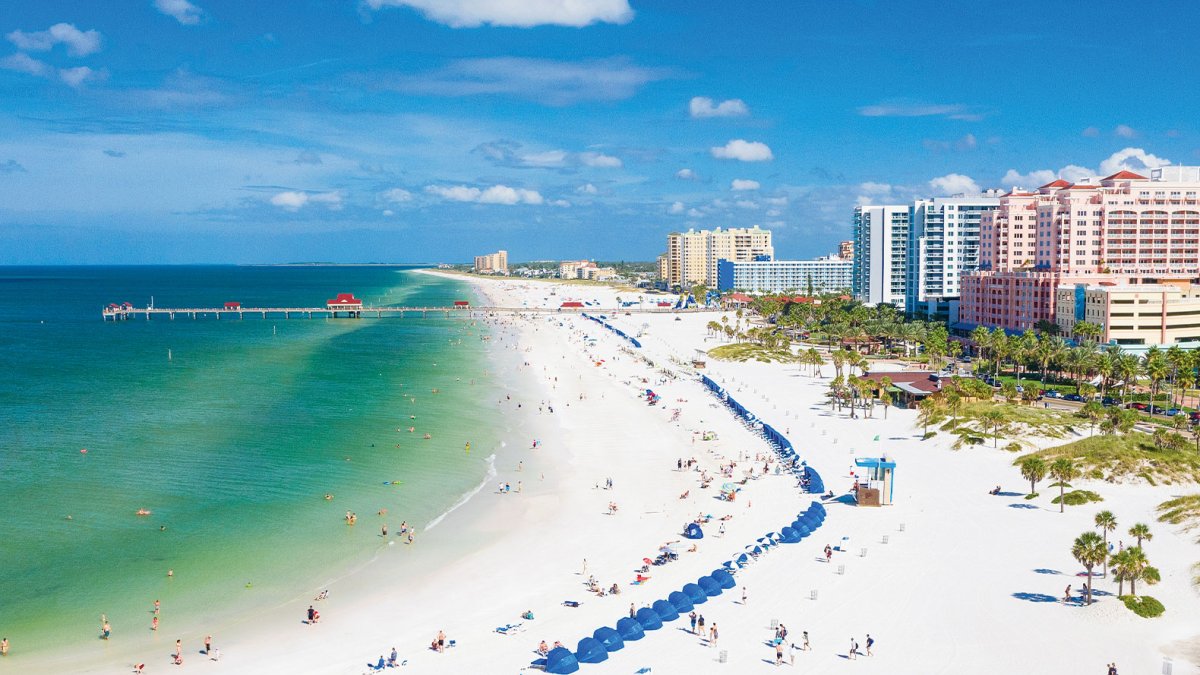 Sun and fun is the order of the day along our 35 miles of award-winning beaches. Although our Gulf waters are typically clear, and our surf is most often calm, on occasion, beach conditions may change.
If red tide is present, we'll post updates on this page so you know which beach is best for you to visit. Below, you'll also find information on Florida's beach flag warning system (which alerts beachgoers to safe vs. unsafe swimming conditions), seasonal air and water temperatures, as well as additional resources to help you plan your beach vacation.
As you enjoy America's Best Beaches, please remember to be considerate of other beachgoers, wear sunscreen, stay hydrated, and have a fabulous beach day!
---
Current Beach Conditions: All Clear, No Red Tide Reported
See For Yourself
Check out this live beach webcam to see what's happening on America's Best Beaches.
live webcam
Live from America's Best Beaches
Talk about gorgeous! Soft white sands and emerald waters stretch out forever here on St. Pete Beach, Tripadvisor's top beach in 2021. This webcam is live from the Sirata Beach Resort.
Read More About St. Pete Beach
Live Webcam (no audio)
Florida's Beach Warning Flag Program
Many Florida beaches, including beaches in St. Pete/Clearwater, utilize a beach warning flag system to let beachgoers know of current beach conditions. You'll most often see beach warning flags posted on or near lifeguard stands. 
Here are the beach warning flag colors and what they mean:
Green Flag: Low hazard, calm conditions.
Yellow Flag: Medium hazard with moderate surf or currents.
Red Flag: High hazard, with high surf or strong currents; when these conditions are present, lifeguards may ask swimmers to get out of the water.
Double Red Flag: Water is closed to the public (you may still walk on the beach, but you may not enter the water).
Blue Flag: Stinging or hazardous marine life such as stingrays or jellyfish are present.
It's important to note that rip currents can occur unexpectedly at any beach. Swimmers should be aware of their surroundings and read about what to do if they get caught in a rip current.
Average Beach Water Temperatures
Yes, you can swim at our beaches, year 'round! Most visitors find our Gulf water temperatures quite pleasant, especially if they are coming from colder climates. See our chart of average Gulf water temperatures below.
| | | |
| --- | --- | --- |
| January | 64 F | 17.7 C |
| February | 64.4 F | 18 C |
| March | 66.7 F | 19.3 C |
| April | 73 F | 22.8 C |
| May | 78 F | 25.6 C |
| June | 82.4 F | 28 C |
| July | 85 F | 29.6 C |
| August | 86.7 F | 30.4 C |
| September | 84.6 F | 29.2 C |
| October | 81 F | 27.3 C |
| November | 75 F | 23.8 C |
| December  | 68.5 F | 20.3 C |
Average Air Temperatures
Florida is the Sunshine State, and we have warm weather year 'round. Here's a chart of average monthly highs and lows in St. Pete/Clearwater. Summer months tend to have brief afternoon rainstorms, while winter months are typically dry. Be sure to leave the beach if a thunderstorm is coming.
| | | |
| --- | --- | --- |
| Month | High | Low |
| January | 66.7 F /19.3 C | 57 F / 13.7 C |
| February | 68.7 F / 20.4 C | 59 F / 15 C |
| March | 72 F / 22.3 C | 62 F / 16.7 C |
| April | 78 F / 25.4 C | 68 F / 20 C |
| May | 82 F / 27.9 C | 78 F / 25.6 C |
| June | 86 F / 29.9 C | 78.4 F / 25.8 C |
| July | 87 F / 30.7 C | 80 F / 26.6 C |
| August | 88 F / 31 C | 81 F / 27 C |
| September | 87 F / 30.3 C | 78 F / 25.5 C |
| October | 81 F / 27.3 C | 73 F / 22.5 C |
| November | 81 F / 27.3 C | 75 F / 23.9 C |
| December | 71 F / 21.5 C | 61 F / 16.2 C |