Beaches FAQs
We've rounded up everything you need to know about St. Pete/Clearwater beaches.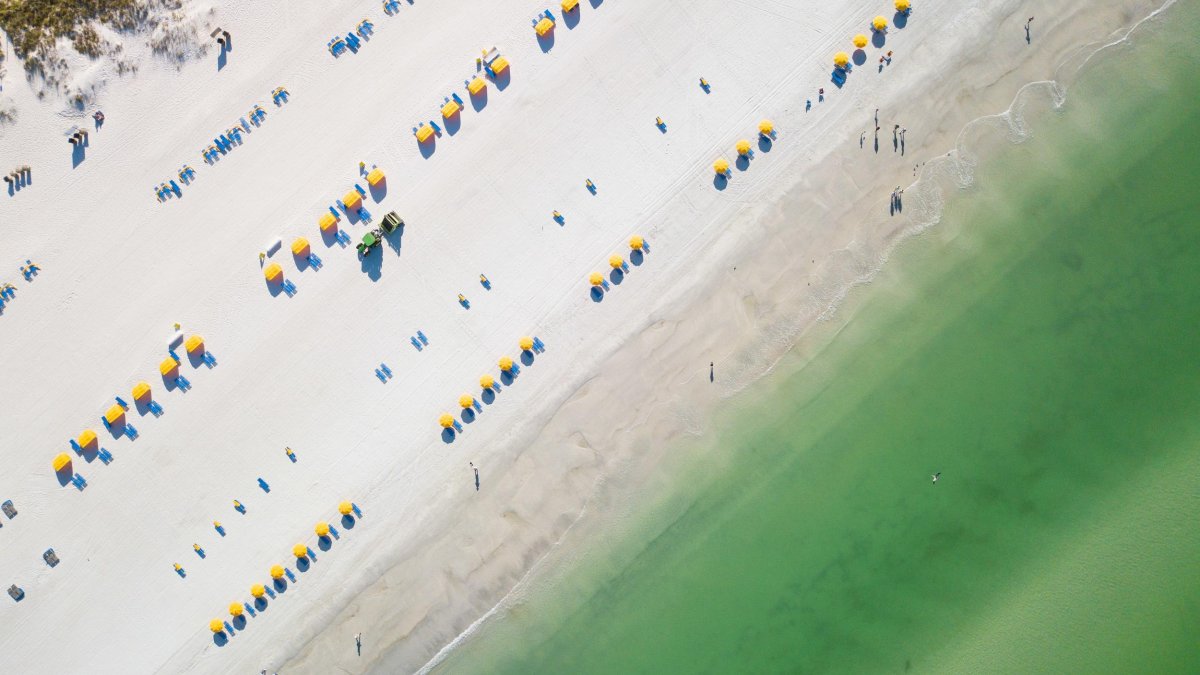 Have some questions regarding our miles of white-sand beaches? No worries, we have you covered! Check out answers for the top frequently asked questions about Clearwater and St. Pete Beaches:
How do I monitor beach conditions and red tide?
Review these live beach cams to see current beach conditions. Our beach conditions page will let you know if any of the St. Pete/Clearwater beaches are impacted by red tide (algal blooms), which are higher-than-normal concentrations of algae in the Gulf of Mexico. You can also check out our Red Tide FAQs page.
Is the seaweed "blob" in Florida affecting St. Pete/Clearwater's beaches?
No, there is no seaweed blob on our beautiful beaches. St. Pete/Clearwater is known for its pristine sugar sands and clear, light green Gulf waters.
Which local beaches have beach wheelchairs, Mobi-Mats and the best access?
A number of local beaches offer manual beach wheelchairs at no charge, include Pass-a-Grille Beach, Honeymoon Island State Park and Fort De Soto Park. Clearwater Beach has both manual and motorized beach wheelchairs available for people with mobility challenges. Several local beaches also have Mobi-Mats, smooth, hard surfaces that allow for easier rolling on the sand for wheelchairs. Read our Guide to Accessible Beaches for all the details you need.
 
Where can I rent a beach wheelchair to use for my vacation?
If you want to rent a manual beach wheelchair to use throughout your vacation, All Seasons Beach Stuff Rentals offers delivery and pick-up service, 727-557-6902. Manual beach wheelchairs require a companion to push the chair.
If you would like to rent a power beach wheelchair during your vacation, contact Sand Helper, 727-213-5700. They can deliver to your hotel, home or condo, and service is available in a number of communities, from Clearwater all the way south to Tierra Verde. Individuals with power wheelchairs can move the chair independently on the beach. 
How much and where is beach parking?
Generally, parking is metered and costs range around $2 to $5 per hour. There are some smaller, free parking lots at Indian Rocks Beach and Pass-a-Grille Beach. At Pass-A-Grille Beach, you can view parking availability, so you know where to park before you arrive.
At all local public beaches, visitors with disability placards or plates may park in any of the metered spots without charge. This is not limited to only the metered spots designated as disability parking.
Learn more about area parking lots and locations in this beach parking article.
Which beaches are the best for activities?
Clearwater Beach offers an array of watersport rentals and boat tours and also has beach volleyball courts. You can also find many shops, seafood restaurants and nightlife near this beautiful beach, named the No. 1 Beach in the U.S. by Tripadvisor in 2016, 2018 and 2019.
St. Pete Beach has a variety of watersports like parasailing, stand-up paddleboarding, windsurfing and kiteboarding. It's also known for an active social scene with many beach bars and rooftop lounges nearby. Its laid-back attitude and coastal charm are among the reasons it was named the No. 1 Beach in the U.S. by Tripadvisor in 2021.
Madeira Beach is home to John's Pass Village & Boardwalk, a hub for boutique shopping, waterfront dining and bars. Madeira Beach is also a central jumping-off point for fishing charters and boat tours. Madeira Beach was Tripadvisor's #9 Beach in 2021.
Which beaches are the quietest?
Caladesi Island, accessible only by ferry or private boat, is prized for its tranquility. You'll also find plenty of quiet spots in the sand at Fort De Soto Park and Shell Key.
Which are the best beaches for watching a sunset?
Great sunset spots include the famed Pier 60 on Clearwater Beach, the Pool Deck at Hyatt Regency Clearwater Beach or even Hubbard's Marina Cruise. Check out this list for great sunset-watching locations.
Which beaches are the best for families with small children?
Visit Clearwater Beach, Fort De Soto Park or Treasure Island for some family-friendly fun in the sun. Splash along the shoreline or build fun sandcastles with your kids on Clearwater Beach. Fort De Soto Park has a huge tidal pool at North Beach with shallow water and shells that make it safe and fun for kids to play in. Fort De Soto Park also has nature trails, a historic fort and miles of gentle waves. Treasure Island is another great beach for families.
How do I find a place to stay on the beach in St. Pete/Clearwater?
There are many beachfront properties including luxury resorts such as The Don CeSar and Sandpearl Resort and smaller properties such as Bayside Inn & Marina and Coconut Inn. You can also find many beachfront home rentals and condominiums in St. Pete/Clearwater. Peruse this list of unique beachfront and beach access hotels and vacation rentals to help plan your next trip.
What is beach nourishment (sometimes called "renourishment")?
Beach nourishment, also known as beach filling, is the process of replacing sand from other sources. To keep local beaches from eroding, sand is pumped from the Gulf. The beaches are monitored and projects are scheduled based on the amount of erosion that has occurred. Nourishment restores and widens the beach, which provides more room for fun but also protects dunes and coastal structures. Stay up to date on the beach nourishment project status in the Pinellas County area. 
Are beaches open during the nourishment process?
Yes. Beaches are open, safe and accessible during the beach nourishment process. 
Where is the best beach to find seashells?
Some of the best places to search for seashells in St. Pete/Clearwater are Sand Key Park in Clearwater and Fort De Soto Park near Tierra Verde.
Can I bring alcohol to the beach in St. Pete/Clearwater?
Different beaches have different rules, but here is the recently updated list of how to enjoy the beach responsibly:
Clearwater Beach - No alcohol is permitted on public beaches.
Honeymoon Island and Caladesi Island - No alcohol is permitted.
Belleair Beach - No alcohol is permitted.
Indian Rocks Beach - No alcohol is permitted.
Fort De Soto Park - No alcohol is permitted.
Madeira Beach - Alcohol beverages are allowed but not in glass containers.
St. Pete Beach - Alcohol beverages are allowed on the sand at beachfront hotels, but this is limited to hotel guests.
Treasure Island - Alcohol beverages are allowed but not in glass containers. However, no alcohol is allowed on the beach between the 8500 block and the 9900 block of Treasure Island Beach between 8 a.m. and 4 p.m. on Saturdays and Sundays.
Redington Beach - Alcohol beverages are allowed. Although there are no ordinances against glass bottles, it is not recommended.
Please remember to drink responsibly and travel safely using rideshare apps or a designated driver.
Can I rent umbrellas and chairs on the beach?
Yes. You can sit down at any of the cabanas or beach chairs in Clearwater Beach, St. Pete Beach and Madeira Beach and an attendant will come to ask you for the rental fee. Sun umbrellas are also available to rent. You can also rent beach chairs and umbrellas on Caladesi Island.
Can I get married on the beach?
Yes. St. Pete/Clearwater's waterfront views and gorgeous sunsets make it a favorite destination for beachfront weddings. Pass-A-Grille Beach, St. Pete Beach, Clearwater Beach, Sunset Beach, Indian Rocks Beach and Redington Beach are a few great wedding locations, and they offer a variety of venues as well. Cost, offerings and restrictions vary beach-to-beach. Take a look at this article for more information on planning a wedding on the Gulf Coast.
Am I allowed to shoot fireworks on the beach?
No. Pinellas County bans the use and sale of fireworks that explode or project into the air. Only trained professionals are allowed to handle fireworks. However, during the Fourth of July and on New Year's Eve, you can enjoy stunning fireworks displays in the sky over our parks, beaches and downtown skyline.
What water sports are offered on or near the beaches in St. Pete/Clearwater?
There are many water sports offered in St. Pete/Clearwater such as skimboarding, windsurfing, kite surfing, jet boarding, parasailing, paddleboarding, jet skiing and boat tours.
 
sunshine here
More About America's Best Beaches