a proud community
LGBTQ+ Travel
St. Pete/Clearwater is a destination that embraces diversity and prides itself on being welcoming and open to all. Come here for an LGBTQ-friendly vacation and enjoy a dreamy week at the beach, a fun getaway in a walkable, urban gayborhood, or a unique and artsy escape. Come as you are, and we will, too.
---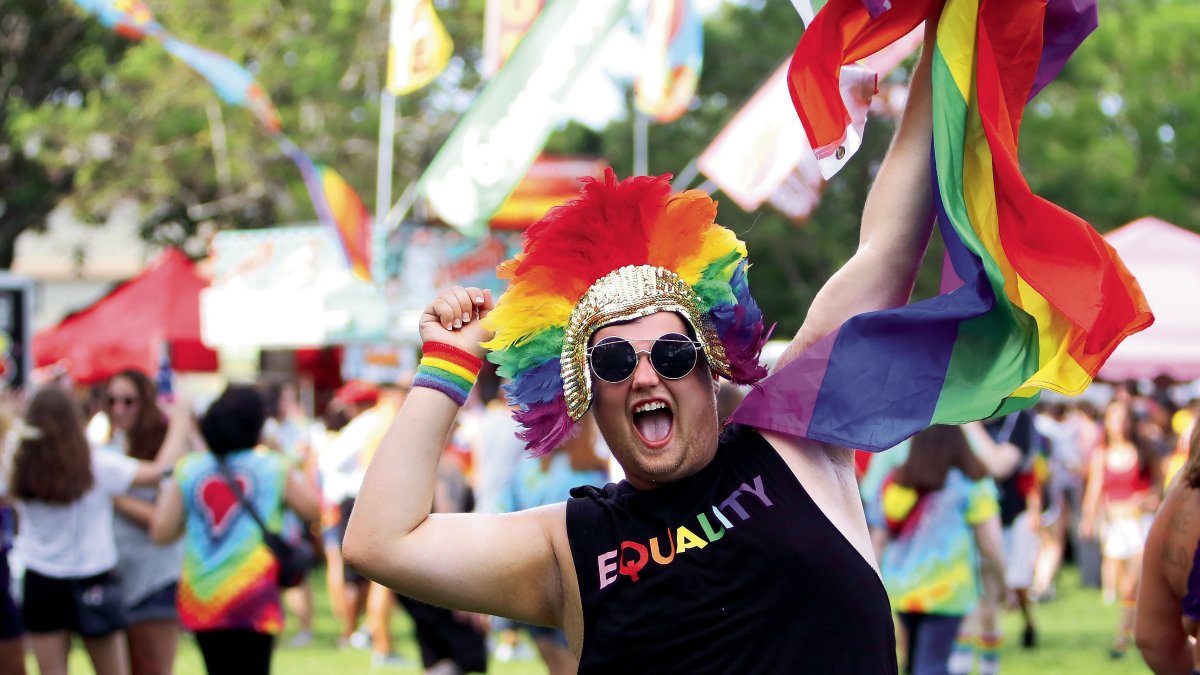 join the rainbow fun
Show Your Pride in June!
From St Pete Pride to other top LGBTQ+ events, St. Pete/Clearwater is the place to be this summer!
Pride Events Here
A Shout Out from the Nomadic Boys
Check out what the Nomadic Boys have to say about St. Pete/Clearwater!
"St. Pete is the thrilling gay hub of west Florida. We've visited several times and always left with smiley faces, wanting to return for more. It offers everything a gay would want – a super friendly vibrant LGBTQ community, glorious beaches, an exciting gay scene, and it's home to the largest gay Pride event in all of Florida ..."
Read about the Nomadic Boys St. Pete Vacation
---
Watch Our LGBTQ+ Videos
Check out our warm and welcoming community of residents and travelers.
For insights, tips and resources for LGBTQ+ visitors (and locals), check out the Tampa Bay LGBT Chamber. Visit their website ahead of your stay to explore more LGBTQ+ businesses and resources in the destination.
Neighborhoods, Gayborhoods
With its perennially perfect score from the Human Rights Campaign's annual Municipal Equality Index, one might consider the whole city of St. Pete a gayborhood – but some neighborhoods stand out for being historically LGBTQ+ enclaves. These include the Grand Central District, which stretches along Central Avenue between 16th and 31st streets and is lined with fun boutiques, antiques shops, restaurants and bars – many of them LGBTQ+-owned.
Then there's eclectic and super-LGBTQ-friendly Gulfport, a laid-back waterfront community where you can check out local art at galleries and events, join a game of pickup beach volleyball or sip a margarita at a spot overlooking Boca Ciega Bay.
Just north of Clearwater is another small town called Dunedin. Like Gulfport, this small town has lots of LGBT-owned businesses. The town is well-known locally for its craft beer scene, great restaurants and TD Ballpark, where the Toronto Blue Jays have their spring training.
You may already know that the beaches here are simply phenomenal, with their sugar sand and emerald-green waters. But here's a little local secret: Sunset Beach in Treasure Island. The southern end of Sunset Beach that goes from just south of 80th Terrace down to land's end (between the two jetties) is known to draw LGBTQ+ folks.
Gay-Friendly Accommodations
Whether you want to be steps from the Gulf or near all the city excitement – you can find it here.
The area's newest gay hotel is the Mari Jean, which opened on Central Ave. in 2023 in St. Pete's Grand Central District. This adults-only gay hotel was developed by designer and local entrepreneur David Fisher, who also lent his talents to the Mari Jean's social hot spots, including The Saint Speakeasy, COCKtail St. Pete and The Wet Spot, a pool bar and day club.
In downtown St. Pete, The Hollander Hotel is a boutique property with a sparkling courtyard pool and an excellent restaurant.
For more of a B&B-style stay, check out Gay St. Pete House in Historic Kenwood – look for the dolphin outside, and be sure to spend some time poolside. Sea Breeze Manor Inn in Gulfport is also an excellent choice for a friendly guest house-style accommodation – though those waterfront views alone are worth it.
Beach hotels such as Treasure Island's Bilmar Beach Resort as well as Postcard Inn and Sirata Beach Resort (both on St. Pete Beach, Tripadvisor's #1 Beach in America in 2021) – offer well-appointed rooms and tons of amenities, as well as great restaurants and bars on site.
Celebrate Pride
LGBTQ+ Trip Ideas