LGBTQ+ Influencers' Travel Guide to St. Pete/Clearwater
Travel influencers Sarah and Rachel Benson visited St. Pete/ Clearwater on a "pre-wedding moon" and saw what this amazing destination has to offer.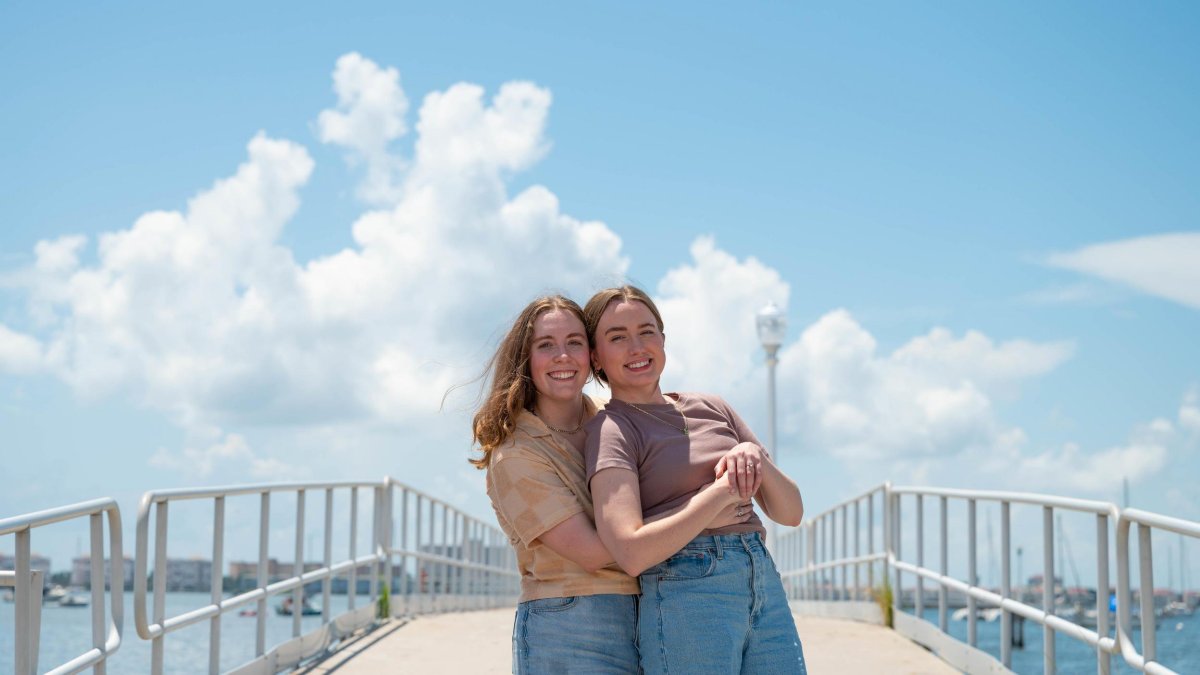 Looking for a gay-friendly destination where the sun is always shining, and there's plenty to keep you busy from morning 'til night? Look no further than St. Pete/Clearwater. With plenty of LGBTQ+ owned businesses, there are many options to make LGBTQ+ singles or couples feel at home. Recently, influencers Rachel (@itsrachbenzo) and Sarah (@sarah.marie.benson) Benson had a fabulous visit here. Check out some of their recommendations!
---
Clear-Bottom Kayaking
1 Collany Rd., Tierra Verde, FL 33715
With area waters being so crystal-clear, it's a must that you go kayaking. Not just in any kayak, go in a clear-bottom kayak! We booked an experience to visit Shell Key Preserve with Get Up and Go Kayaking where they have single and tandem kayaks. During the tour, the guide will take you around to gorgeous mangroves and over to a pristine beach where you can look for seashells and just hang out and relax. While on your kayak tour, you may also see some of St. Pete's wildlife including dolphins, manatees, different species of birds, mangrove crabs, and more. It's a magical experience that you can't pass up while you're visiting the area, and was named #2 in Overall Best Travel Experiences by Tripadvisor. 
Bike or Scooter Self-Guided Tour
Central Avenue, St. Pete
There's no better way to explore Central Ave. in St. Pete than to grab an electric bike and take a self-guided tour. St. Pete has so many cool LGBTQ+-owned businesses to explore that it's hard to pick just a few to share. Our favorites were ZaZoo'd – a home décor shop, Ashe Couture Boutique – great bohemian apparel, shoes, and swimwear, SaltLight Art – a boutique in downtown St. Pete that sells paintings and handmade jewelry, and finally The Hyppo Gourmet Ice Pops. We also stopped to talk a photo at the rainbow crosswalk on Central Avenue and 25th Street in the Grand Central District. You can rent bikes and Veo (standing) or Razor (seated) scooters throughout downtown, right on the street.
Fairgrounds St. Pete
800 28th St. S., St. Petersburg, FL 33712
For those who are looking to take some Instagram-worthy shots, make Instagram Reels or TikToks, or just do something unique and explore some interactive pieces of art, then you need to stop by The Fairgrounds St. Pete. This interactive, indoor art exhibit is filled with so many fun artistic pieces with so much neon flare. They encourage you to take as many photos and videos as you want and if you're looking to do a little more, they have a scavenger hunt that you can take part in while you explore. 
St. Pete Shuffleboard Club
559 Mirror Lake Dr. N., St. Petersburg, FL 33701
Founded in 1924, the St. Petersburg Shuffleboard Club is the oldest and largest shuffleboard club in the world. Fun fact: this club was the inspiration for the Royal Palms Wicker Park/Bucktown bar! Friday nights are open to non-members for a small fee, and they'll help you set up your court and go over the rules of the game. Order a drink and relax or grab the sticks to play. Either way, you're sure to have a fun time.
COCKtail St. Pete
2355 Central Ave., St. Petersburg, FL 33713
For an after-dinner drink or a night on the town, COCKtail is a must. This successful gay bar in St. Pete offers themed nights, and a variety of entertainment including comics, drag queens and musicians. It's attached to the gay, adults-only Mari Jean Hotel and The Wet Spot pool bar.
 
Let It Be Ice Cream
3127 Beach Blvd. S, Gulfport, FL 33707
As it was pretty hot when we visited, stopping for a sweet treat was a must. Let It Be Ice Cream is a classic diner with ice cream, floats, milkshakes and malts. This was the perfect way to cool down after exploring all day. 
 
Lingr
400 6th St. S., St. Petersburg, FL 33701
Run by Chef Jeffrey Jew, Lingr is one of the best upscale restaurants in which to "linger" while in St. Pete. Travelers with sophisticated palates will love its innovative dishes, such as the hamachi crudo and soy sauce-cured salmon.
 
Matteo Trattoria & Pizzeria
2363 Central Ave., St. Petersburg, 33713
Matteo's is a family-owned Italian restaurant and bar creating traditional dishes from scratch. It was hard to choose between the fire-roasted pizza and the pasta with mussels. So, we did both and shared! This is a great place for a date night or a family dinner.  
The Saint Speakeasy
49 24th St. N., St. Petersburg, FL 33713
Behind a discrete red door on a side street in the Grand Central District of St. Pete, awaits an unrivaled cocktail experience. The Saint invites you in to confess life's darkest sins while enjoying fine cocktails. Each evening brings its own uniquely exciting experience, depending on which "sinners" have entered the speakeasy.
 
Stella's
2914 Beach Blvd. S., Gulfport, FL 33707
Stella's is located within the Village Courtyard in the waterfront district of downtown Gulfport, a tiny town southwest of St. Pete. Established in 2009, this quaint eatery caters to tourists and locals by providing tasty breakfasts daily from 7 a.m. to 2 p.m. Many consider this cozy restaurant the "Cheers" of Gulfport. Take a seat inside at the counter and enjoy a great meal and friendly conversation.
 
Uptown Eats
689-D Dr M.L.K. Jr. St. N., St. Petersburg, FL 33701
This LGBTQ+-owned café will have all your breakfast and lunch needs, made fresh in-house. Come for great, locally roasted coffee, pastries made in-house, and yummy sandwiches. 
 
The Avalon Hotel
443 4th Ave. N., St. Petersburg, FL 33701
Located in the heart of downtown St. Pete, The Avalon radiates a cool Art Deco style at an affordable price. With its sleek Deco-esque lines, artful use of neon, and retro-chic interior, it was unlike any other hotel we have ever stayed at. It provided the perfect place to start our day every morning and rest our heads at night.  
---
See Videos of Sarah and Rachel's Trip
We truly enjoyed St. Pete/Clearwater and finding a place in Florida where we felt accepted. There are so many awesome LGBTQ+-owned businesses that we loved supporting during our trip. You can find a wrap-up of our trip on TikTok or YouTube. Hope to see you here soon!