Out and About: The Best Gay-Friendly Beaches in St. Pete/Clearwater
Are you looking for the best beaches in St. Pete/Clearwater for the LGBTQ community? Read about the best gay-friendly beaches St. Pete has to offer.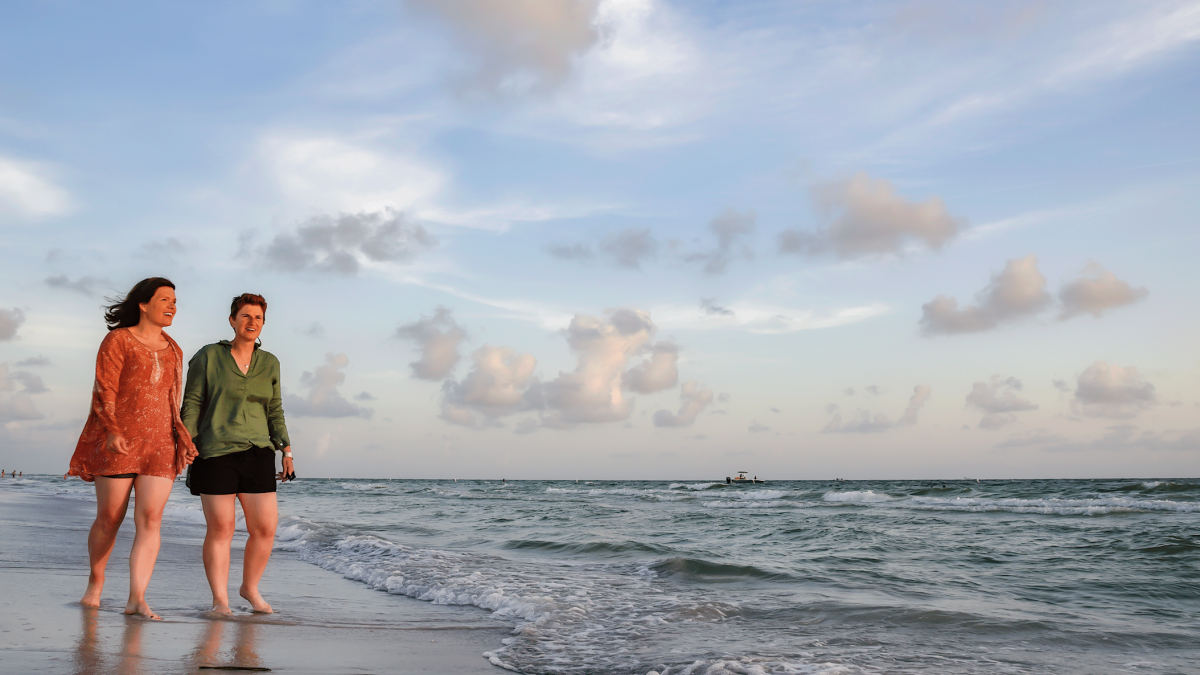 Already picturing the white sand and sparkling water of your next Florida vacation? Come to St. Pete/Clearwater! 
St. Pete/Clearwater has been rising in popularity as a gay travel destination in the last few years, and it's clear why. With gorgeous sand, watersports and LGBTQ-friendly beaches, this destination has a lot to offer anyone looking for an escape from the hustle and bustle of daily life.
Here are some of the best, most LGBTQ-friendly beaches in St. Pete/Clearwater! 
Sunset Beach 
Sunset Beach is the place to be out and about on the water in St. Pete/Clearwater. From the name alone, you know you'll get gorgeous sunsets, but it's also known for its turquoise water and white sand beach dotted with tiki huts, restaurants and bars. It's been nicknamed "the gay beach" for its mostly LGBTQ clientele.
Go people-watching at the Sunset Pavilion which always has weddings and events, or play with the adorable dogs at the dog park where it's easy to make new friends. Or just enjoy the sun and surf of one of the best beaches for the LGBTQ community in Florida.
Looking for somewhere to eat in Sunset Beach? There are tons of options to try! For a spot just off the marina, grab a bite at Sea Hag's. This place serves American comfort food and does it well. Get the Hag Shrimp and save space for dessert – the key lime pie is to die for. 
Shrimpy's is right on the marina and serves up American, Cajun and creole-inspired dishes. It also has great drinks, including its renowned Bloody Marys. Shrimpy's has live music every night and plays local sports games as well. Note that there is a charge for using your credit card.
Nothing caps off a day at the beach better than an ice cream cone! If you have space after dinner, then make sure to stop by Super Scoops – a local shop that serves up old-fashioned sundaes, milkshakes, and floats.
While you're here, be sure to stop by Caddy's for at least one drink. Caddy's Treasure Island is a local LGBTQ hotspot with live music and great cocktails. Lots of people gather here, so you can mingle and make new friends or just sit and enjoy the sunset and live music while sipping on a cocktail.
Thinking of staying overnight? Consider The Roth Hotel. This family-owned boutique hotel has gorgeous rooms and excellent service. The best part? It's just steps from the beach.
Pass-a-Grille Beach 
Pass-a-Grille Beach is miles and miles of sugar-sand beach with clear water and not too many tourists. If you are looking for an alternative to the more popular beaches, then Pass-A-Grille Beach should be your destination of choice!
Pass-A-Grille is an excellent spot to explore the beachside neighborhood. There is a large friendly LGBTQ residential community here, so you will see all sorts of people from all walks of life roaming the streets.
Are you the type to look up the history of every place you visit? Then the Gulf Beaches Historical Museum is for you. This small museum details the history of the St. Petersburg barrier islands from the 1500s to the present.
If you're interested in history, you'll be glad to know there is a historic seafood restaurant just across the street from the Gulf. The Hurricane has served up delicious seafood since 1977. The family-friendly spot offers delicious Gulf-fresh seafood, such as the crowd-favorite grouper sandwich.
Need a casual lunch spot near the beach? Seahorse Restaurant is a great breakfast and lunch place to get your omelet or biscuits and gravy fix. The food comes in large portions, perfect for sharing.
Check out The Dewey if you are looking for something more formal and elegant – great for a romantic date night. Located at the Berkeley Beach club, The Dewey is an upscale dining establishment near the beach. It has to-die-for truffle fries and a rooftop bar.
Thinking of staying near Pass-a-Grille? The Don CeSar is right on the beach, very close to Pass-a-Grille. Opened in 1928, The Don CeSar has a world-class spa and gorgeous rooms. Plus, it's pet-friendly!
St. Petersburg Municipal Beach On Treasure Island
Everyone is welcome at St. Pete's Municipal Beach on Treasure Island. One of the hidden gems of the area, it's a little beach with volleyball courts, a playground and a snack bar. But if you are in the mood for something more substantial, there are a ton of different places to eat nearby!
Buoy's has both an excellent location and great food. Get either the filet medallions or Buoy's shrimp. It also serves excellent breakfast – the Benedicts are especially delicious. Don't miss out on drinks here either  – they are handcrafted by mixologists.
Also on Treasure Island, Crabby's On The Pass has an extensive menu full of delicious dishes. But if you have to pick just one, go for the seafood – get grouper tacos, conch fritters, or the crab and spinach dip.
Looking to stay near St. Pete's Municipal Beach? Spend a few days in the lap of luxury at the Treasure Island Beach Resort. This gorgeous building is right on the beach, complete with a pool and burger joint attached. It's also close to other attractions such as Sunset Beach and downtown St. Pete.
Clearwater Beach
Clearwater Beach has been voted America's best beach town, and for good reason. A gorgeous beach with lots of amenities and shallow water, it's perfect for families and watersports.
If you are traveling with kids, then the nearby aquarium is a must-see! Go to the Clearwater Marine Aquarium for a fun and educational excursion. See rescued marine animals and fascinating exhibits.
Treat yourself while on vacation at Caretta's. Enjoy fresh, seasonally inspired cuisine right on the beach. You definitely want to dress up a little more for this place – jackets aren't required, but the dress code is more formal than your typical beach cover-up.
In the mood for something a little more casual? For great food, great drinks, and great ambiance, Marina Cantina has it all! It's pretty close to the beach, so you can enjoy excellent sunsets while sipping margaritas and eating scrumptious grouper tacos.
While you're staying at America's best beach town, check out the Opal Sands Resort. It's a gorgeous modern resort tucked into the curve of Clearwater Beach with beautiful ocean views and sleek design – the perfect spot for a getaway.
Fort De Soto Park
Fort De Soto Park is one of the best beaches in America. There is so much to do – not only can you go kayaking, boating, snorkeling, and camping, but you can also catch a ferry to the nearby islands Egmont Key or Shell Key to explore their natural beauty. With its large campground with waterfront sites, this is also a popular destination for RVers. If camping isn't your style, there are some great places to stay nearby if you want to spend more time in this gorgeous protected area.
One of the closest and best places to stay is the Inn On The Beach, a small boutique hotel that offers easy access to both Fort De Soto and the Pass-A-Grille beaches. You can also sign up for activities such as scuba diving, kayaking, and swimming with manatees. 
For a restaurant that's on the way to Fort De Soto Park, Billy's Stone Crab is in a great location and serves good food, such as its famous stone crab. 
St. Pete/Clearwater is a great option for your next Florida vacation. There is so much to do and so many beaches to visit, each with its own unique qualities that make it special. Visit these vibrant communities and plan your trip today!
Content by Rachel Covello. Covello is the Publisher of OutCoast.com, an LGBTQ-focused destination marketing travel blog highlighting inclusive destinations in Florida in which to visit, celebrate, and live. Explore LGBTQ Florida on OutCoast.com to find the best rainbows in the Sunshine State.