Best Waterfront Restaurants
There are plenty of St. Pete/Clearwater waterfront restaurants ready to offer you a beautiful view along with a delicious meal.
Keep the beach vibe going on your vacation by dining out at a popular cafe, tiki bar or upscale restaurant right on the water. From laid-back beach bars along the Gulf beaches to downtown St. Pete restaurants with a view of Tampa Bay, you'll have plenty of waterfront dining options. All of the restaurants on our list offer patio dining or outdoor deck seating (and most have an indoor option, too).
Video with a View: Waterfront Dining
We can all agree, waterfront dining just tastes better. Between the beautiful waterfront views and freshly-caught-from-the-Gulf seafood on your plate, it's a memorable experience. Check out this ultimate list of waterfront dining restaurants in St. Pete/Clearwater!
Casual Beachy Dining Classics
No need to be dressed to the nines at these classic establishments. Come straight off the beach and enjoy some delicious dining and refreshing cocktails.
Restaurants with a Tropical Vibe
Bright colors, frozen coladas and nautical decorations - you might feel like you're on a Caribbean island at these restaurants. Kick back, relax and savor the food, music and island vibes.
Upscale Waterfront Dining
Make a reservation for a special moment: These fine dining waterfront restaurants offer delicious dishes in beautiful settings.
Bon Appetit Restaurant
Vibe: You can't go wrong at this local favorite in Dunedin that's been voted "Tampa Bay's Best Waterfront Restaurant" and among the "100 Most Scenic Restaurants in America." Come to Bon Appetit for lunch or dinner in an atmosphere of relaxed elegance, all with a spectacular waterfront view.
Insider Tip: Yes, it's possible (and a good idea) to make a reservation, but a tip that dining on the outdoor terrace is first-come, first-served. There's also a waterfront bar you can relax at while waiting for a table.
Explore More
Island Way Grill
Vibe: With its signature style, Island Way Grill offers slightly more formal waterfront dining on the Clearwater Harbor. "Formal" doesn't mean stuffy, though - the restaurant's dress code is along the lines of Tommy Bahama shirts for the guys and sundresses for the ladies. Outdoor seating is available.
Insider Tip: Enjoy one of the best Sunday brunch spreads around. Fresh seafood, omelet station, sushi bar, oysters on the half shell and a deluxe waffle station will keep you coming back for more!
Explore More
Sandbar
Vibe: Views, views, views! As the name Sandbar would suggest, this prime spot on Clearwater Beach is directly on the Gulf. It's got a chill vibe, though the Opal Sands Resort its attached to is decidedly upscale. You decide whether you want to come in super-casual clothes, or wear your best South Beach-inspired ensemble while sipping tropical cocktails and sharing fresh seafood and pretty drinks with friends. This upscale tiki bar has outdoor dining aplenty.
Insider Tip: You'll find some of the best drinks on Clearwater Beach here. Get the biggest bang for your buck with pre-dinner appetizers and drinks - and enjoy an out-of-this world sunset.
Explore More
Tate Island Grill
Vibe: Stroll up from the beach or poolside at this beachfront cool-and-casual haunt located at the Sandpearl Resort on Clearwater Beach. Enjoy a delicious wrap, some hummus or a refreshing beverage. Tate Island Grill offers plenty of shaded, outdoor seating.
Insider Tip: Stay for sunset to check out some live music and the nightly ringing of a ship's bell.
Explore More
Caretta on the Gulf
Vibe: For a more refined experience, dress up just a bit and head to stylish Caretta on the Gulf on the Sandpearl Resort's main floor. You'll be raving about this AAA Four-Diamond restaurant with its seasonally inspired menu. Both indoor and outdoor seating is available.
Insider Tip: Enjoy tasty fresh seafood and steaks. If you're feeling really fancy, enjoy some Siberian caviar.
Explore More
The Society Table at the Don CeSar
Vibe: Stop by the Don CeSar Hotel for an all-new experience at their recently opened Society Table. The menu leans toward fresh seafood, but meatlovers and vegetarians will find options, too.
Insider Tip: The Society Table is open for breakfast, lunch and dinner, so come when the mood strikes and the tummy grumbles.
Watercolour Grillhouse in Clearwater Beach Marriott Suites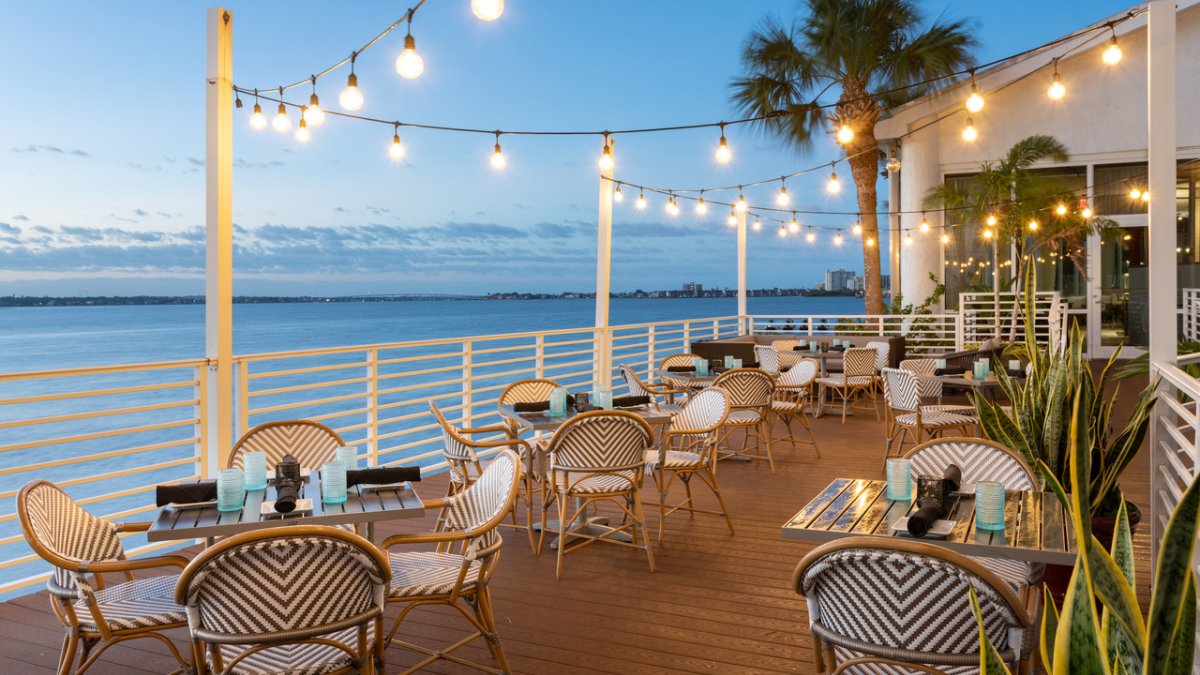 VIBE: Watercolour Grillhouse has a relaxed, upscale vibe. This is where you want to go to have a great meal with your significant other, best friends or for a business get-together.  Located in the Clearwater Beach Marriott Suites on Sand Key, the bay front restaurant and bar offers relaxing views and parking is easy. 
Insider Tip:  The wine list is impressive and the cocktails are too! For Sushi fans, the sous chef rolls sushi Weds - Sunday. And when trying to decide between the steak and lobster mac-n-cheese, bring a friend and order both!
ESKaPE
Marrying local flavors with intuitive service in a casual water front setting, ESKaPe is a haven to discover the essence of the Gulf. For guests of the Resort, ESKaPe is open mid-day.
Explore More
Waterfront Restaurants in the St. Pete Pier District
The St. Pete Pier has great options for waterfront dining.
Surf and Turf in Indian Rocks Beach and Indian Shores
Indian Rocks Beach and Indian Shores are quiet beach retreats, away from the bustle at Clearwater Beach and St. Pete Beach. Discover amazing dining in this smaller neighborhood!
Guppy's on the Beach
Vibe: This Indian Rocks Beach staple is a study in casual refinement, but it's serious about offering a delicious menu of options. Guppy's is best known for its fresh fish selection including local Gulf grouper piccata, Florida lobster tail, and shrimp and grits. Find plenty of shaded, outdoor dining.
Insider Tip: Steak lovers will enjoy the filet mignon dressed in garlic gorgonzola butter!
Explore More
Salt Rock Grill
Vibe: This fine dining establishment with views of the Intracoastal Waterway stands as a St. Pete/Clearwater landmark, known for excellent service and food. Salt Rock Grill's menu features both specialty seafood from around the world as well as the freshest of local catches. Steak lovers will also find some nice selections.
Insider Tip: If you're a wine aficionado, you'll want to order a nice bottle from their impressive wine cellar, which can be seen from the dining room.
Explore More
treat yourself
More Delicious Dining