Ride the Beach Trolley
Take the Suncoast Beach Trolley and explore area beaches, restaurants and local attractions the easy way - without worrying about directions or parking.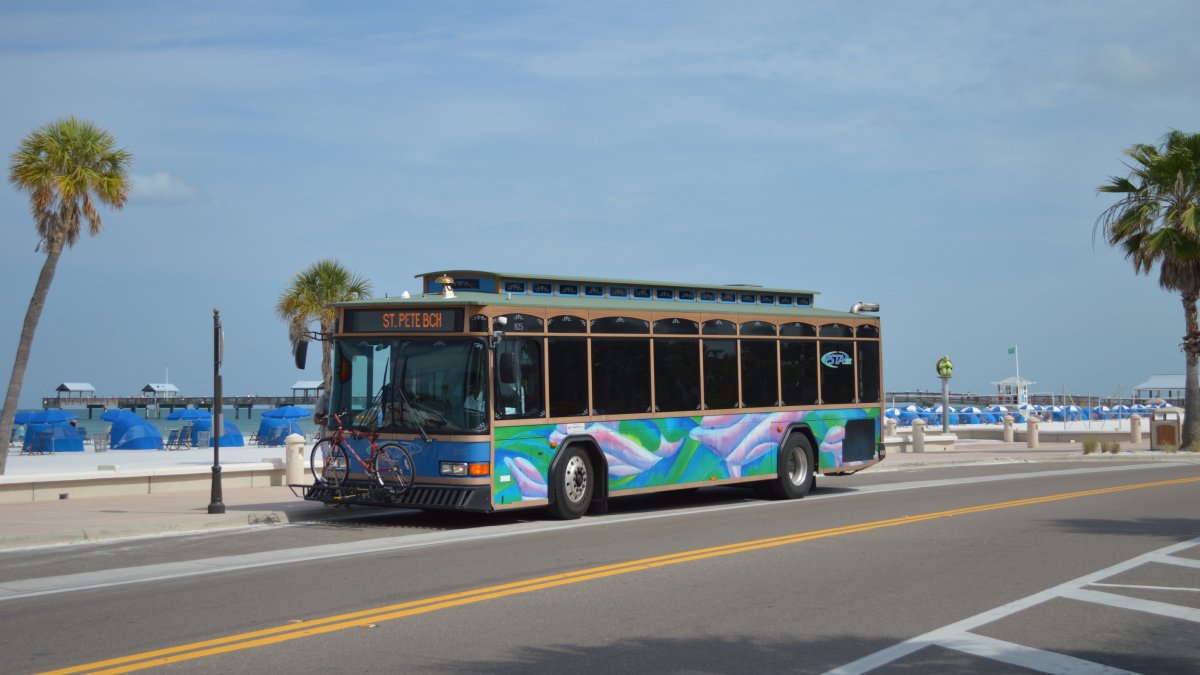 Whether you're traveling without a car or wanting to take a break from driving yourself, hop aboard the Suncoast Beach Trolley to tour the Gulf Beaches. Stretching from Clearwater Beach south to Indian Rocks Beach, Indian Shores, Redington Shores, North Redington Beach, Redington Beach, Madeira Beach, John's Pass Village, St. Pete Beach and Pass-a-Grille.  Take a short ride to one particular beach, shopping area or restaurant. Or, travel the entire route to get a great view of our Gulf Coast communities (you can hop on and off along the way). Locals take the trolley, too, and if you take time to chat with them, they'll likely recommend some of their favorite shopping and dining spots.
Hours and Pricing
The regular cash fare is only $2.25 and children five years old or younger may ride for free with an adult. Visitors may also purchase unlimited ride fares for either three, seven or 31 days for between $18 and $70. With trolleys arriving every 20 to 30 minutes between approximately 5:20 a.m. and 10 p.m. (midnight on Fridays and Saturdays), it's easy to cover the whole coastline in a full day of fun.
Beginning Your Trolley Adventure
If you aren't staying at a hotel on the beach, you may wish to begin your trolley adventure on the mainland at the Park Street Terminal in downtown Clearwater. Here, you can buy a single fare or longer passes. Another option is starting at the Clearwater Beach bus stop which is directly opposite the beach near Pier 60. You can ride from either location to explore the beach communities.
If you are staying on the beach, you'll likely get on the trolley at the location on Gulf Boulevard that's closest to you. As you travel through the beach communities, just ring the trolley bell whenever you'd like to hop off.
Clearwater Beach and Sand Key
The north end of the trolley route begins at the white sandy beaches near Pier 60 in Clearwater Beach, named the #1 Beach in America by Tripadvisor in both 2018 and 2019. By day, the soft white sand is the perfect spot to play volleyball and build sandcastles. You can also dine directly on the beach at Frenchy's Rockaway Grill, a Clearwater Beach tradition (try the grouper sandwich!) and adventure-seekers have their pick of parasailing and WaveRunner rentals for water fun.
Two hours before sunset, the park at Pier 60 comes to life with street performers, artists and musicians for the free nightly sunset celebration. Just before the sun dips into the Gulf of Mexico, pay a dollar to walk out to the very end of the 1,250-foot long pier for a picture-perfect sunset.
The trolley also stops near Clearwater Marine Aquarium, home to Winter the dolphin, made famous in the movies Dolphin Tale and Dolphin Tale 2. Visit and learn about her inspirational story and that of her friend, Hope the dolphin. The research aquarium has an ever-changing guest list of otters, turtles, dolphins and stingrays that are here for rehabilitation. Aquarium staff also manage sea turtle nests throughout the destination, including nearby Sand Key Park, a beautiful 95-acre park and beach that overlooks Clearwater Pass.
On the eastern side of Sand Key, the Clearwater Community Sailing Center offers instruction programs as well as sailboat rentals.
Madeira Beach and John's Pass Village
Farther south on the trolley route is Madeira Beach, voted the No. 9 beach in the U.S. by Tripadvisor in 2021. One of the big reasons why is the blend of white sand beach and proximity to local restaurant favorites, like Dockside Dave's. Many know Madeira Beach, too, because of the popular John's Pass Village & Boardwalk, featuring more than 130 shops, restaurants and attractions. Families will find water activities for all ages, from watersports rentals for older kids to sightseeing cruises on The Pirate Ship at John's Pass.
St. Pete Beach & Pass-a-Grille
The four miles of white, sandy beaches aren't the only reason to ring the trolley bell in St. Pete Beach, voted Tripadvisor's No. 1 Beach in America in 2021. Historic Corey Avenue is the place to get your shopping fix. You'll find art galleries, restaurants, gift stores and boutiques. Art fairs and other events occur frequently along Corey Avenue, including winter wine tastings and gallery walks. Every Sunday, October through June, visitors can enjoy the Corey Avenue Sunday Market from 10 a.m. - 2 p.m. with fresh veggies, gourmet treats, local crafts and live music.
A "must-see" at the southern end of St. Pete Beach is The Don CeSar. This opulent pink palace opened in 1928 after being built for $1.25 million. The eight-story building didn't fare well during the Great Depression. It eventually became a military hospital and then was vacant for many years before its grand reopening as a hotel in 1973.
At the southern end of the trolley line is the beach town of Pass-a-Grille, which is a National Historic District. The town is storied to have earned its name from Cuban fishermen who camped along the water smoking their fish on grills. Traveling by the pass, fishermen could see the fires and began calling the spot Pass-a-Grille.
In Pass-a-Grille's Gulf Beaches Historical Museum, you can explore the county's barrier islands' past. The museum itself is a piece of history. It was the first church constructed on one of the barrier islands. Exhibits display artifacts from the 16th century to present day.
Finally, don't forget to check out the quaint shops and restaurants along Eighth Avenue, the town's main shopping district before making a return trip north on the trolley.
Clearwater Beach to John's Pass Village
The newest route is a daily round trip service from Clearwater Beach to John's Pass Village. During the 30-40 minute trip, passengers can enjoy beautiful views as they ride along 14 miles of the Gulf Coast.