The Perfect Coastal Colors of St. Pete/Clearwater
Dreaming of colors that make you feel like you're by the shore every day of the year? We've got the perfect palette (and paint colors) for you!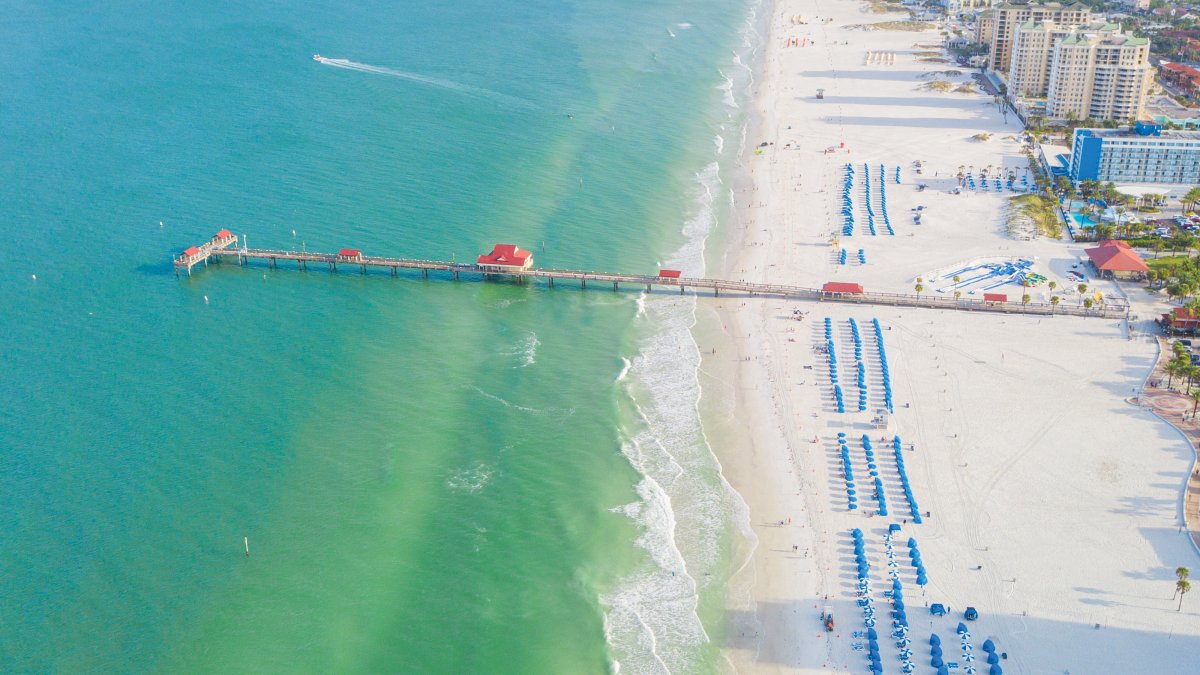 You don't have to live in a beach cottage to take advantage of the coastal design trend. It's all about harnessing your sunny inner child. Letting go of your everyday cares. Embracing your Floridian alter ego (the one who wears flip-flops and drives a convertible).
So, pour yourself a tall glass of sweet tea, turn the fan on high and start thinking about surrounding yourself with the colors of America's Best Beaches year-round.
Hey.... did we mention that we've got great swag to send you? Just post a photo of your newly painted room, furniture, or even your whole house on Instagram and tag us @vspc and we'll send you something coastal-cool as long as supplies last.
Now, let's ride the wave toward that cozy coastal cottage you've been pining after.
CALMING COASTAL COLORS
Want a soft, relaxed, seaside vibe? We've got the deets on which paint colors to choose.
Sea Salt by Sherwin-Williams
Entire blog posts (scores of them!) have been written about Sherwin-Williams' Sea Salt (SW 6204). Why, you ask? Because its changeling nature (shifting from green, to blue, to gray, depending on the time of day) means your room can take on many moods as the hours pass and the light changes. It's downright fascinating for paint geeks. 
See this color in St. Pete/Clearwater: 
On a perfect day in St. Pete/Clearwater (which is nearly every day), our Gulf waters are crystal-clear and a beautiful, light green. The waters here are wonderful for swimming, snorkeling and searching for seashells.
Paint colors similar to Sherwin-Williams Sea Salt:
Pirates Cove Beach by Benjamin Moore
Soft, natural pinks are in for 2023, and this creamy, rosy-toned beige paint by Benjamin Moore, Pirates Cove Beach (OC-80), is as much fun on your walls as its name suggests. (Ben himself describes it as "a luminous orange-peach that conjures the beach at sunset.") Use it as a warm neutral in your living room or bedroom, or create a serene bath retreat, complete with fluffy white towels and shell-shaped soaps.
See this color in St. Pete/Clearwater: 
In that golden hour, about 30 minutes before and after sunset, the skies here are often painted in gorgeous, soft shades of pink, coral and yellow. It's a stunning scene that makes you feel like all the stress in the world has melted away.
Paint colors similar to Benjamin Moore's Pirate's Cove Beach:
---
BRIGHT & BOLD COASTAL COLORS
Ah, there are so many wonderful ways to say blue! Whether you're seeking an azure or an aquamarine, a cerulean or a cobalt, you'll find that bold pops of color in your home add so much to your decor.
Fiesta Blue by Valspar
With an LRV (light reflective value) of 46, Valspar's Fiesta Blue (5003-10A) has a good amount of color saturation. This is a bold color to brighten up an office, reading room or bedroom. To emphasize its dramatic effect, pair it with a cool, crisp white, such as Behr's Ultra Pure White or Benjamin Moore's Chantilly Lace.
See this color in St. Pete/Clearwater: 
You might catch a glimpse of this pretty color flying by on a kiteboard near the iconic Sunshine Skyway Bridge. Or walk past the stunning Dalí Museum at night to see this blue IRL.
Paint colors similar to Valspar's Fiesta Blue:
Blue Echo by Behr
Not to be confused with Benjamin Moore's Blue Echo (did someone say "echo?"), which is a much darker, more traditional blue-green, Blue Echo by Behr (S460-3) is light and energetic. It's perfect for a bold bathroom (choose brushed gold faucets and fixtures to complement your paint selection). Or use Blue Echo as the ocean background for a child's bedroom. Add fun, sea creature-themed wall decals to help them count fish instead of sheep at bedtime.
See this color in St. Pete/Clearwater: 
Check out this cool color as you bike past bright cottages in tiny, quirky Gulfport. View the waters under your clear kayak on a paddling tour with Get Up and Go to scenic Shell Key. Or gaze into the bright blue eyes of your sweetheart as you dine waterfront.
Paint colors similar to Behr's Blue Echo: