7 Must-See Stops on the Dolphin Trail
These dolphins may stand still and live on land, but they're equally as beautiful as their living counterparts in the ocean!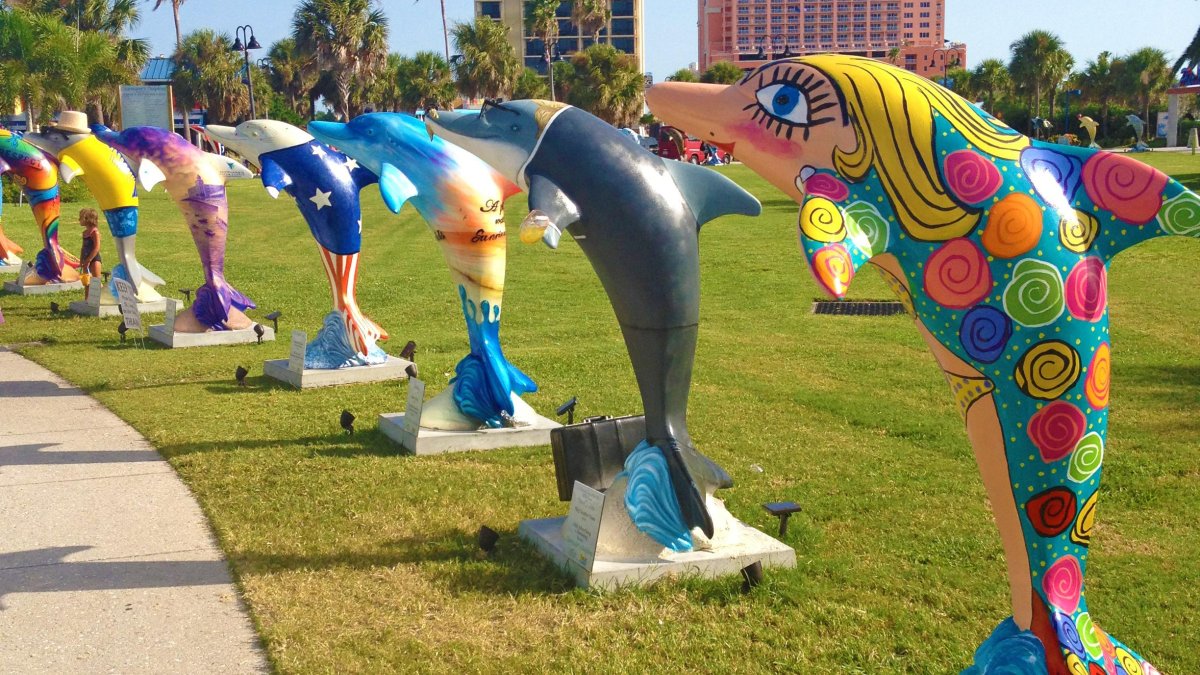 A pod of more than 120 six-foot-tall dolphins made from glass, ceramic, fiber art and decoupage, all designed by local artists, are dotted along the Dolphin Trail in St. Pete/Clearwater, drawing the attention of locals and visitors alike. Be sure to strike a pose and snap a selfie with your favorite dolphin and share it using #clearwaterdolphins. Dive into the Dolphin Trail at these popular spots.
 
Meet Skipper at Tropicana Field
You'll find Skipper up for bat at Tropicana Field near the Rays Tank. Sponsored by the Tampa Bay Rays, Skipper is in full uniform including a Ray's jersey painted on by artist Robert Daltry.
Get artsy with Festivo at the Dalí Museum
Just outside of the Dalí Museum's beautiful glass dome, Festivo is standing on his tail, saluting Salvador Dalí himself. Painted by J.R. Duffy, Festivo – who is also sponsored by the museum – is adorned with a Dalí-esque design with references to paintings inside the museum like The Hallucinogenic Toreador. Snap a picture with Festivo, and then head inside to be awestruck by Dalí's artwork.
Explore marine life with Sea-Orama at the Clearwater Marine Aquarium
Located inside the Clearwater Marine Aquarium, Sea-Orama is a celebration of all things marine life. Artist Elizabeth Bonert adorned Sea-Orama with swimming sea turtles, whales, mahi-mahi and sharks, along with some signage and symbols for protecting our seas.
Enjoy "Florida's Best Beach Town" with Miss Sunset Sparkles
Your followers will be envious of your time in Clearwater, especially when they see you posing next to Miss Sunset Sparkles on Clearwater Beach. Located at Barefoot Beach Resort, her sunset design, with the accolade that Clearwater was voted Florida's Best Beach Town in 2013 by USA TODAY painted clearly on her belly by Robert Daltry, makes for a perfect vacation snap shot.
Get in touch with nature at Honeymoon Island State Park with Linger
Linger is a dolphin that tries to blend into its environment at Honeymoon Island State Park. Designed by M'rissa Rosenthal, Linger is decorated with lines of pine trees reminiscent of the park. Pause for a picture, then explore the tranquil park and idyllic beach.
Run into Bubbles and Woody in Downtown St. Petersburg
While strolling through Downtown St. Petersburg, you'll run into both Bubbles and Woody on Beach Drive. Bubbles, located at 400 Beach Seafood and painted by J.R. Duffy, has a beautiful under-the-ocean theme, while Woody, at The Birchwood, by Bebe Ocane, has a modern and vibrant theme with green hues and the outline of birch trees. Shop, dine and then snap a picture with these stylish downtown dolphins.
Take a Stroll on Cleveland Street to meet Sun Dance and America the Beautiful
A stroll along Cleveland Street and the surrounding area in Clearwater will put you at the heart of the Dolphin Trail. Here you'll find Sun Dance, with a swirling sunset design by Terri Gray, and America the Beautiful, a patriotic salute sponsored by Tampa Bay Times. Meander around the block to find unique shops and artsy scenery.
what's trending
Read More