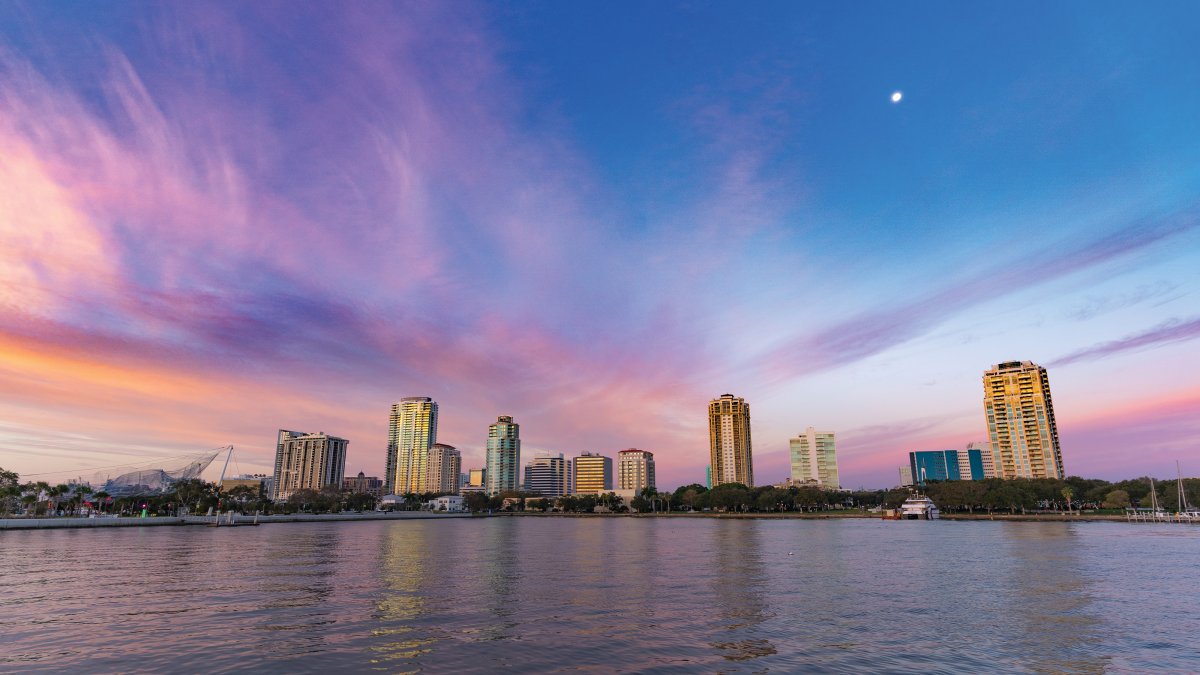 Where can I see a Major League Baseball (MLB) spring training game?
You can watch spring training MLB games with the Philadelphia Phillies in Clearwater, the Toronto Blue Jays in Dunedin and the New York Yankees in nearby Tampa. Nine other big-league teams play their spring games within a two-hour drive of St. Pete/Clearwater.
Where do the Tampa Bay Rays play?
The Tampa Bay Rays play at Tropicana Field, west of downtown St. Pete. There is a free shuttle service called the Baseball Looper Trolley that transports baseball fans from downtown to the field.
Where do the Tampa Bay Buccaneers play?
The Tampa Bay Buccaneers play in Raymond James Stadium located in Tampa, site of where the team won the 2021 Super Bowl.
Where do the Tampa Bay Lightning play?
The back-to-back Stanley Cup Championship-winning Tampa Bay Lightning play at the Amalie Arena (also known as the Ice Palace) in Tampa. The Tampa Bay Cross-Bay Ferry picks up passengers in Downtown St. Pete and drops them off at the Tampa Convention Center, which is a short walk from the arena.
Do St. Pete/Clearwater hotels offer transportation to sporting events?
Some of the hotels in the St. Pete/Clearwater area such as Holiday Inn Express & Suites in Madeira Beach, Crystal Bay Hotel in St. Pete and Staybridge Suites in downtown St. Pete provide shuttle service to different attractions. Reach out to the hotels directly to see if the shuttle buses also stop at any of the sports stadiums.
What beaches offer water sports? Is there an age requirement to participate in water sports?
Some options include skimboarding in St. Pete Beach, Sand Key or Indian Rocks Beach, jet skiing in Clearwater Beach and paddleboarding in Fort De Soto Park. Age requirements for water sports vary, but most sports require children to be accompanied by adults.
What are the best "instagrammable" areas in St. Pete/Clearwater?
There are many locations to take selfies around St. Pete/Clearwater, well-known for its hip vibe. Head to the laid-back rooftop bar Jimmy's Crow's Nest for a bird's eye view of emerald green waters. Check out the awesome mangroves in Caladesi Island State Park. Snap a selfie while parasailing over of the Gulf. Or, head to the Central Arts District in downtown St. Pete for crazy-cool street art just waiting to be photographed!
Does the St. Pete/Clearwater area have an aquarium?
Yes. You can visit the Clearwater Marine Aquarium, which focuses on three missions: rescue, rehabilitation and release. You can enjoy an up-close experience with marine life, including dolphins, sea turtles, stingrays and more. Or, take a Sea Life Safari Boat Tour, a two-hour interactive trip through coastal waters.
Who is Winter the Dolphin?
Winter is the rescued dolphin that swims with a prosthetic tail and starred in "Dolphin Tale" and "Dolphin Tale 2" alongside Harry Connick Jr., Ashley Judd and Morgan Freeman. When she's not busy basking in stardom, she's found swimming in the Clearwater Marine Aquarium. Pro tip: visit WInter's Dolphin Tale Adventure to get a behind-the-scenes look at the sets, props used in the film, recreated movie scenes and early prototypes of WInter's prosthetic tail.
Who is Hope the Dolphin?
Hope is another bottlenose dolphin at the Clearwater Marine Aquarium who is central to the film, "Dolphin Tale 2". Hope was found in the Indian River Lagoon of Florida when she was just a two-month-old calf on December 11, 2010, by a local fisherman. The National Marine Fisheries Service and Hubbs SeaWorld Research Institute determined that Hope should be transferred to Clearwater Marine Aquarium for rehabilitation. The experts didn't think she had the necessary skills to survive on her own, so she was not released.
Are there walking or bus tours in St. Pete/Clearwater?
Yes. Walking or bus tours are excellent ways to explore different parts of St. Pete/Clearwater. The Ghost Tours of Tampa Bay, Skyway Historical Tours and Brew Tours by Thirsty Pelican are fantastic options for bus tours. St. Petersburg Preservation's guided walking tours, St. Pete's unique Walking Mural Tour, Eat St. Pete Food Tours and St. Pete Craft Beer & Bites Tour are other neat options! You can also experience other fun tours like bike tours (marvel talented street art or explore waterfront parks), unique pirate tours (especially enjoyable for the little ones) or exciting duck tours.
Where can I find bicycle rentals in St. Pete/Clearwater?
Bikes can be rented in many locations around St. Pete/Clearwater, including in Pedego Electric Bikes in Dunedin and in St. Pete, Badfins Electric Bike Rentals in Clearwater Beach. Also check out Coast Bike Share, a fun, short term option to get from place to place.
Are there public golf courses that I can play while I'm on vacation?
Yes. The Dunedin Golf Club and the Clearwater Country Club are open to the public, just to name a few.
Are there golf resorts in St. Pete/Clearwater?
Yes. The best-known golf resorts in the area are the courses at Innisbrook Resort and Golf Club and the Vinoy Renaissance Resort and Golf Club. Fun Fact: The Innisbrook Resort and Golf Club hosts the Valspar Golf Championship, which is part of the PGA Tour.