The West Comes Alive at The James Museum
During your stay in St. Pete, take a trip to the majestic American West by visiting The James Museum of Western & Wildlife Art. 
The museum, which is located in the 100 block of Central Avenue in downtown St. Pete, is filled with some 400 paintings, sculptures and other works of art, much of it from Colorado, Arizona and New Mexico.
---
The James Museum's Beginnings
The artwork on display at The James Museum comes from the vast personal collection of Mary and Tom James, avid art collectors who have traveled extensively across the West. Generous philanthropists, they wanted to share their art and their passion for the West with the St. Pete community. Tom James led St. Pete-based Raymond James Financial for more than 50 years and still serves as its chairman emeritus.
The building itself conjures up the West, from the inset on its exterior to its sandstone-clad galleries.
From its remarkable exterior, which is shaped like a mesa with a striking cut-out that references the Ancestral Puebloan cliff dwellings of Mesa Verde National Park in Colorado, to its interiors fashioned with real sandstone, the museum is an architectural marvel. It was designed by Harvard Jolly Architecture, Yann Wyemouth and Wannemacher Jensen Architects, the team behind the Dalí Museum.
Watch the James Museum Video
Step Inside The James Museum
Guests first enter The Arroyo, an airy, multistory space named for a Western landform – a steep-sided gully formed by fast-flowing water. The Arroyo houses a sculpture parlor with rows of detailed bronze sculptures, including a sculpture of a warrior chief and a life-size sculpture depicting a cowboy playing the fiddle for a dog. A bronze sculpture of a Crow couple on horseback sits in the shimmering pool of a towering waterfall.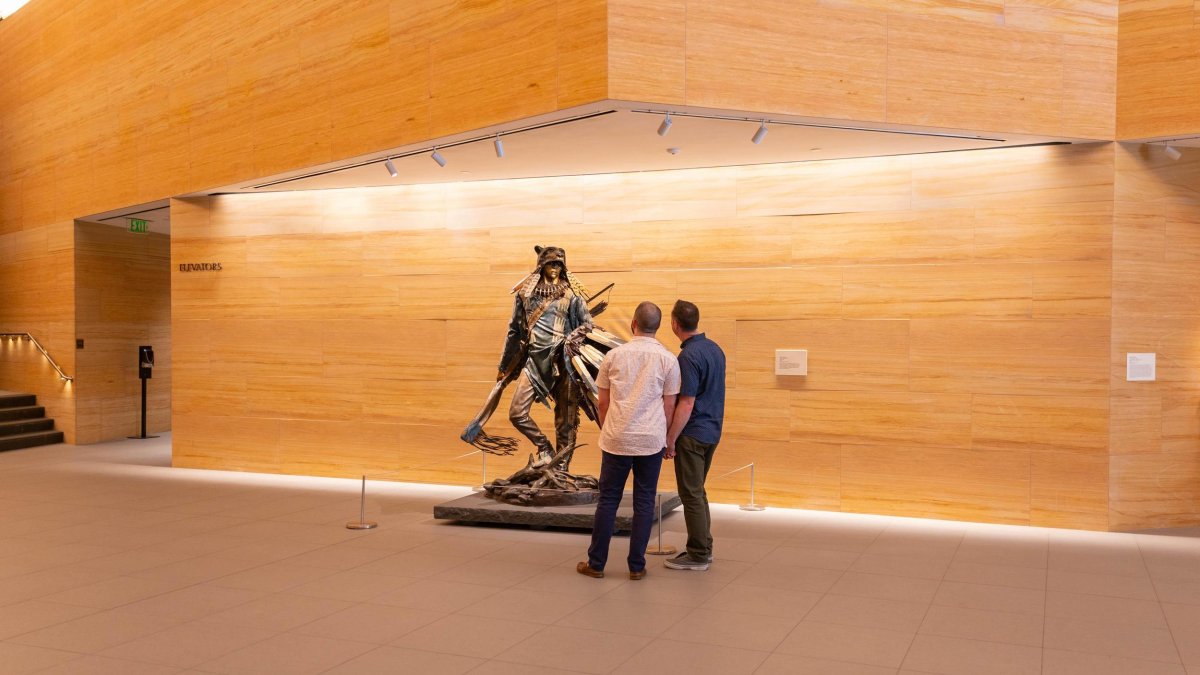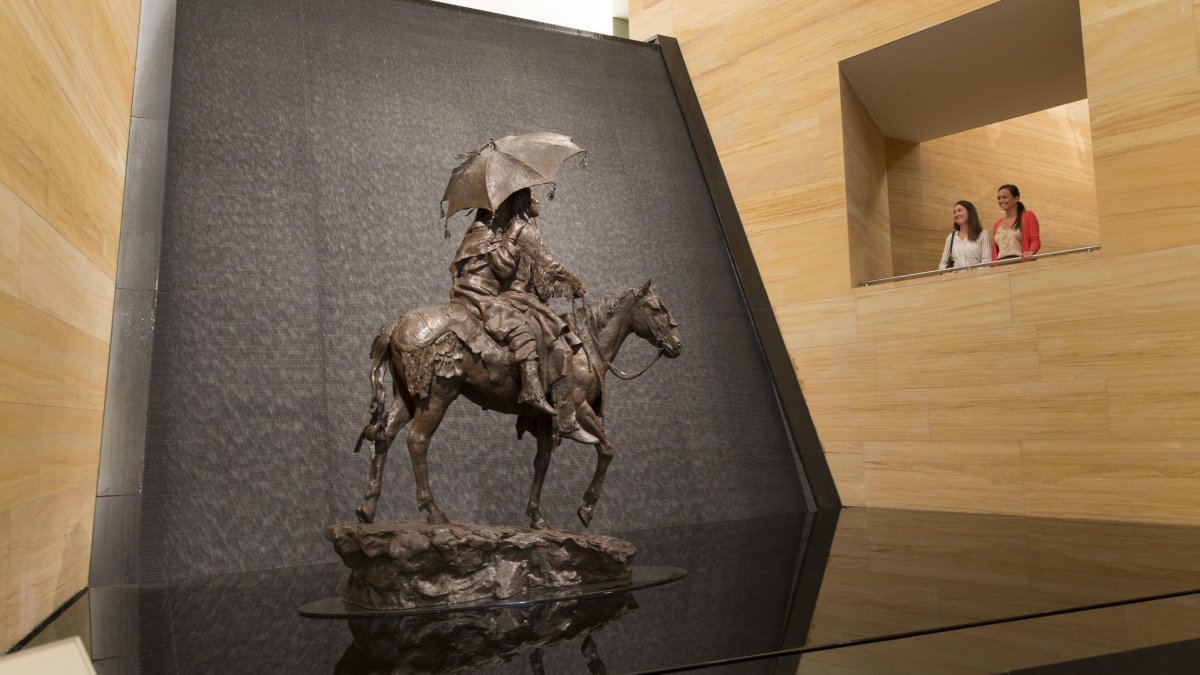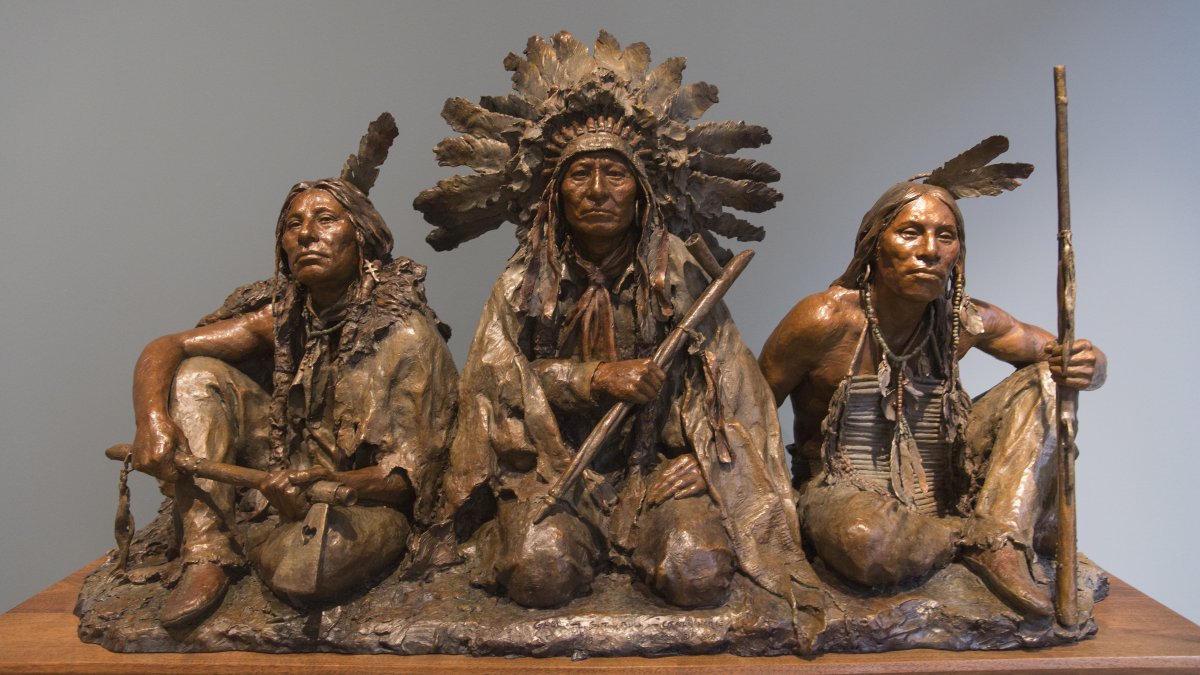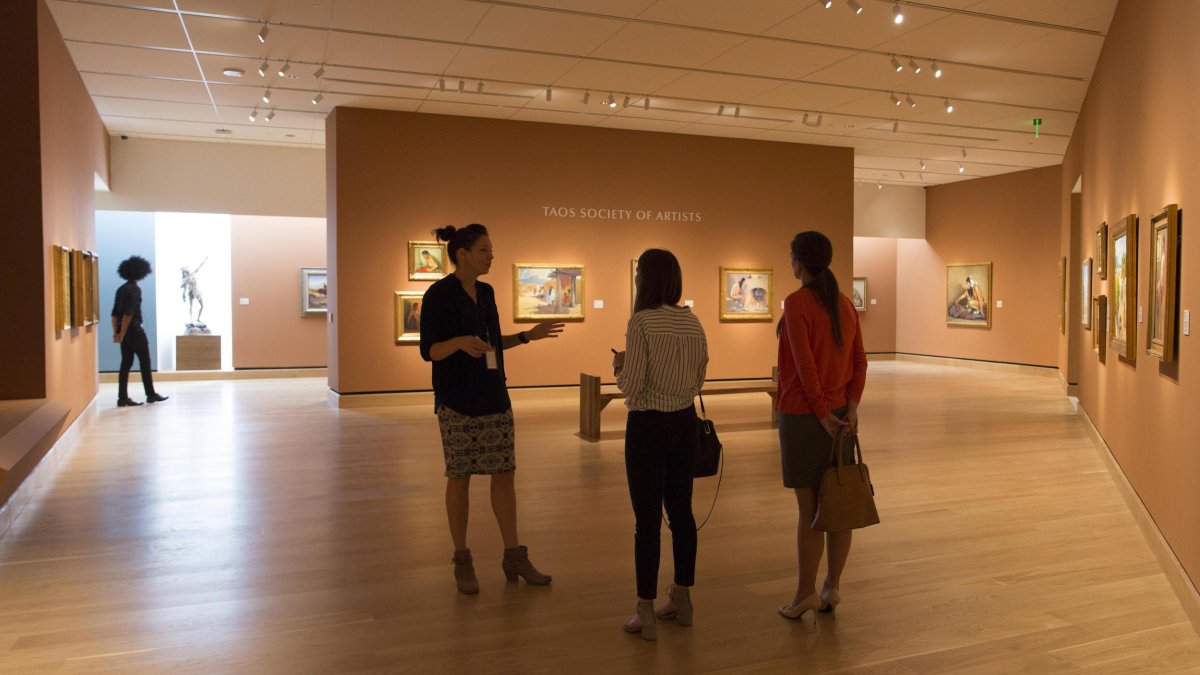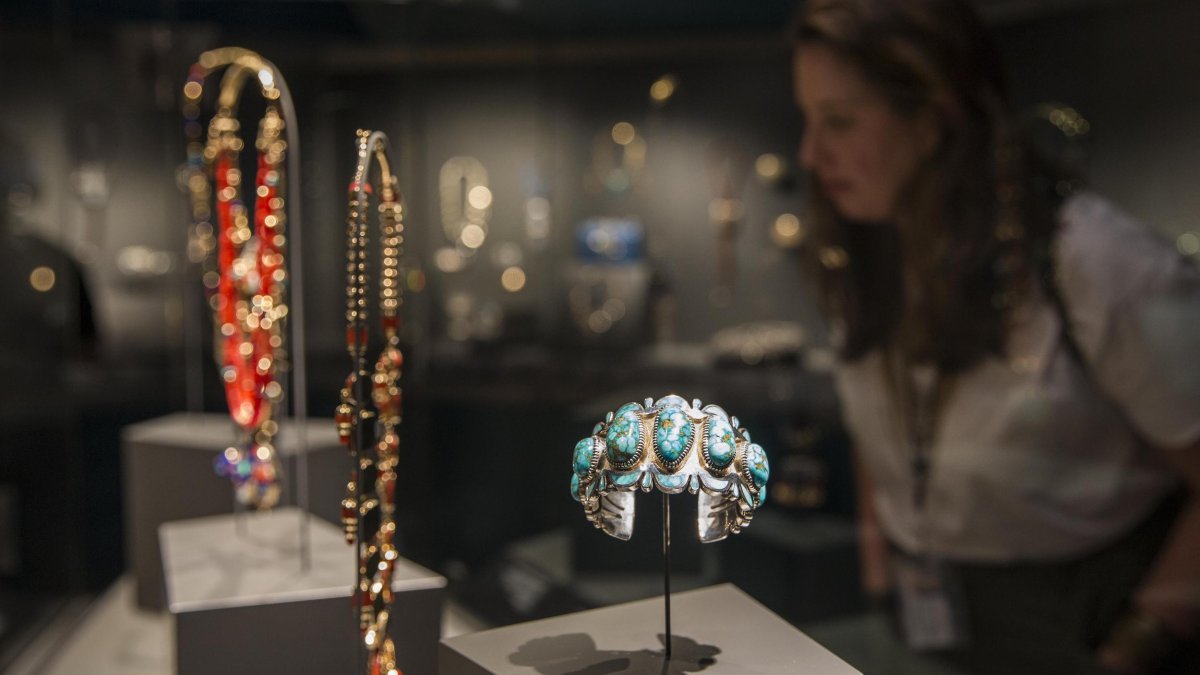 Museum-goers can wind their way through eight galleries filled with paintings, artifacts and sculptures that showcase the people, cultures, landscapes and history of the American West. Thought-provoking pieces are everywhere you look – you'll want to carve out a few hours to see it all.
Supporting living artists was a priority for Mary and Tom James, so much of the museum's artwork has been created since the 1980s. Visitors will find a variety of perspectives, from Western art pioneers to Native American artists. 
The upstairs galleries are grouped by theme and splashed in bold colors that represent the tones of the Southwest. Start in the Introductory Gallery, filled with more figurative bronze sculptures of 19th-century Native American leaders as well as large-scale paintings that depict the West's majestic landscapes.
Peruse the Native Artists Gallery to see pieces by 20th- and 21st-century Indigenous American artists created in a variety of styles and techniques. Tom and Mary James met many of artists displayed in this gallery at the Santa Fe Indian Market in New Mexico.
The Early West Gallery is home to the museum's oldest Western paintings, most of which predate 1950. The New West Gallery showcases Western art that's been influenced by pop art, surrealism, cubism and other art movements, so guests will see works with bold colors and unexpected visual styles.
Works by contemporary artists portraying life in the West's many tribes from the late 1700s to early 1900s fill the Native Life Gallery. In the Frontier Gallery, stories of cowboys, outlaws, fur traders and Buffalo Soldiers come to life in paintings and sculptures. Artists play to and challenge stereotypes of these American icons.
Step inside The Jewelry Box, bathed in rich color and low light and fashioned after a geode, to browse the impressive collection of Native American jewelry, most of which Mary James has worn.
Wild and fascinating, the Wildlife Gallery is home to a menagerie of animals crafted with intense details that highlight their behaviors and natural habitats.
The James Museum hosts frequent programs that are open to the public. Spend time at the museum enjoying author talks, listening to live music accompanied by happy hour or catching a film and subsequent discussions. Youth and family programs include story time, kid-friendly tours and art-making workshops.
Special Exhibits at The James Museum
 "Un/Natural Selections: Wildlife in Contemporary Art " (running through September 17, 2023) draws on images from the National Museum of Wildlife Art and centers on images from the last two decades, exploring the relationship between humanity and the natural world.
Watch for upcoming special exhibits at The James, including "From Far East to West: Frontier Stories from Chinese America" (October 14, 2023 – January 28, 2024) and "Survival of the Fittest: Envisioning Wildlife and Wilderness with the Big Four, Masterworks from the Rijksmuseum Twenthe and the National Museum of Wildlife Art" (February 17, 2024 – May 26, 2024).
Dine and Shop at The James Museum
Stop by the Canyon Café and belly up to the bar – it's an antique 1900s mahogany bar, complete with a bullet hole, that was salvaged from the saloon of a San Francisco hotel – or snag a table overlooking bustling Central Avenue. Grab coffee and pastries in the morning, choose from a Southwestern-inspired lunch menu that includes burgers, sandwiches and salads or drop in during the museum's daily happy hour.
Shop local! Check out the selection of unique Southwestern jewelry as well as books, toys and branded merchandise at The James Museum Store, which is open during normal museum hours.
Visit on Tuesdays when the museum is open late and tickets are reduced to $10 for adults, $5 for ages 7-18 and free for children 6 and under. For highlights of the collection, take a 45-minute docent-led tour – it's free with admission. Tours are limited to 10 guests per scheduled time.