Explore Nature Preserves
Take a walk on the wild side right near the city by exploring the Weedon Island, Boyd Hill and Brooker Creek Preserves.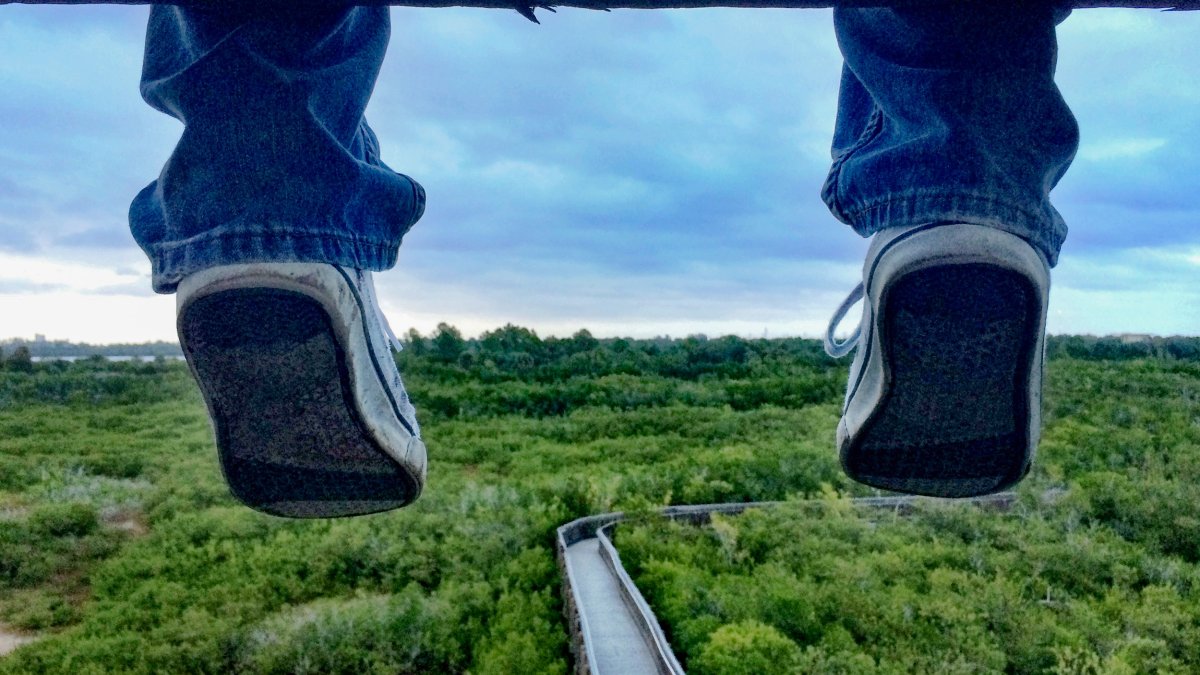 You don't have to wander far from the cityscapes of St. Pete/Clearwater to immerse yourself in nature. Three preserves in particular, Weedon Island Preserve and Boyd Hill Nature Preserve in St. Petersburg and Brooker Creek Preserve in Tarpon Springs invite birdwatchers, hikers, and paddlers of all levels to explore some wonderfully unique ecosystems.
Join a guided hike or plan a paddle to discover these retreats and their native species, then head inside to learn more at the preserves' education centers.
 
A recognized site on the Trail of Florida Indian Heritage, Weedon Island Preserve Cultural and Natural History Center on Weedon Island showcases close to 2,000 years of history. Today, few other places allow you to get out into the wild in such close proximity to a major city as Weedon Island Preserve, located just 20 minutes north of downtown St. Petersburg.
The bays and lagoons that once drew Native Americans now attract thousands of visitors each year. Paddlers can meander down the southern trail, which begins at the fishing pier (a great place to hook snook, redfish or trout) and winds its way through the mangrove islands for four miles, at one point skirting the open waters of Tampa Bay. But paddlers needn't worry about boat traffic—the preserve is a no-combustion motor zone, which means the only way in or out is through arm power.
And that's just fine with the paddling guides from nearby Sweetwater Kayaks; they know that the quieter you travel, the more birds you'll see. Count on spotting great blue heron, snowy egret, roseate spoonbill and the occasional osprey hunting the grass flats.
The preserve is no less inviting on foot. You can hike a multitude of trails through the 3,700-acre wilderness. The one-mile Boy Scout Loop takes you through pine flatwoods and maritime hammocks; then two miles of boardwalk trails carry you over tidal flats and mangrove tangles and deliver you near the preserve's Cultural and Natural History Center. Here you can view exhibits on the island's prehistoric inhabitants.
The highlight for many Weedon Island visitors, however, isn't on the ground at all. On a clear day, the 45-foot observation tower, accessible via the west boardwalk trail, offers an unhindered view of St. Petersburg, Tampa Bay and ospreys soaring overhead.
 
Boyd Hill Nature Preserve
After a morning paddle, you'll be looking to cool off on the trails of Boyd Hill Nature Preserve, located on the shores of St. Petersburg's Lake Maggiore. A favorite getaway for trail runners and day hikers, Boyd Hill is a wilderness oasis in one of Florida's most densely populated areas.
This 245-acre preserve has six miles of nature trails and boardwalks that will give you a glimpse of how the St. Petersburg/Clearwater area, and most of Florida, must have looked when the Spanish explorer Hernando De Soto first gazed upon its shores. Start at the Lake Maggiore Environmental Education Center, where exhibits preview the environments you'll soon traverse. Don't be surprised if, upon exiting the building, a long-legged great white heron strides across your path—you're in its territory now. Home to a small group of permanently injured birds, a small aviary between the Education Center and trails affords close encounters with hawks, owls and a bald eagle.
Begin your hike in a hardwood hammock, then continue on through the sand pine scrub and pine flatwoods. The trail also skirts the willow marsh and lakeshore, where you'll see a large variety of water birds, before returning to the starting point.
But Boyd Hill is home to more than just birds—it's a stunning example of biodiversity. Some come to see the viceroy butterflies, whose orange wings seem to light up in the sun as they dance across the willow marsh. Others enjoy seeing the various lizards and snakes living amid the thick fern forests nourished by Lake Maggiore.
The flatwoods and scrub have a beauty all their own—you'll find box turtles and gopher tortoise here, as well as 90 different butterfly species.
 
Brooker Creek Preserve Environmental Education Center, named for a meandering stream that bisects the property, spans some 8,700 acres of pine flatwoods and freshwater swamps. Located 20 miles north of Clearwater, Booker Creek is home to dozens of threatened and endangered species and is a favorite field trip for school-age students who take advantage of the preserve's state-of-the-art environmental center.
Although Brooker Creek lies in the middle of one of area's fastest-growing suburban locales, officials have taken great care to preserve its natural integrity, and as a result, it's not uncommon to see white-tailed deer, wild turkey, bobcat and even otters.
Walk beneath the pines of the Flatwoods Trail and you're also likely to spot woodpeckers. This trail is one of six paths that comprise Brooker Creek's Wildlands Hiking Trail; additional paths vary from the beginner-friendly Bird Path (measuring one-tenth of a mile) to the four-mile Pine Needle Path Loop that traverses pine communities and cypress swamps. To view the preserve's namesake, follow the Friends Trail to Brooker Creek's main channel. In less than two miles, this trail incorporates a footbridge and an observation tower to help you spot lichens, a restored swamp and perhaps an alligator. For an expert orientation to Brooker Creek's ecosystem, join a Saturday guided hike or a specialty hike (check the preserve's event schedule for details).
There's no better place to wind down at the end of the day. As the sun goes down, you're bound to hear the barred owls calling.
 
what's trending
Read More