Gorgeous Wedding Venues in Tampa Bay
The St. Pete/Clearwater area is filled with special places for staging a beautiful wedding ceremony and reception.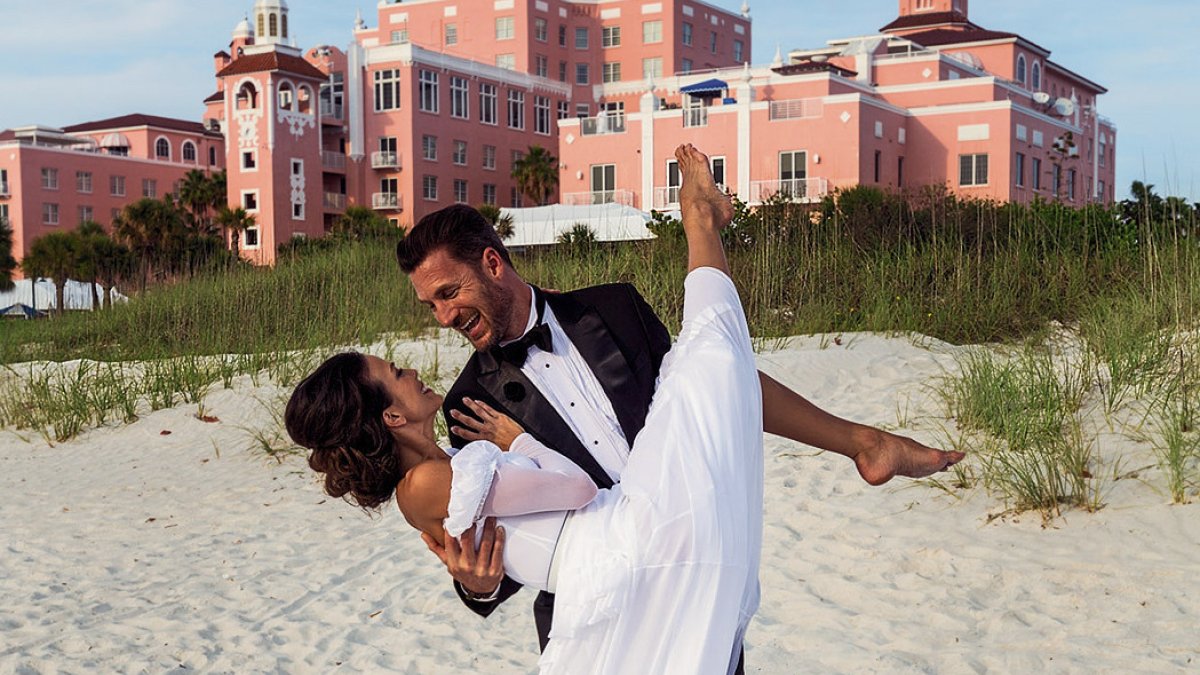 Exchanging vows on a sugar-sand beach is just the start of the romantic possibilities provided by a St. Petersburg/Clearwater wedding. Celebrate in the sculpture garden of a fine arts museum overlooking Tampa Bay, or in a tropical paradise watching the sunset from the deck of a lighthouse on the Gulf of Mexico.
Venues with a View
At one-of-a-kind event spaces on the water, views of sailboats, dolphins and spectacular sunsets make for a remarkable experience.
Tampa Bay Watch Lighthouse, Tierra Verde
The Tampa Bay Watch lighthouse provides panoramic vistas of Tampa Bay and the Gulf of Mexico. Up to 150 guests can experience the balmy breezes on the lighthouse's covered wraparound porch, which overlooks historic Fort De Soto and the barrier island of Shell Key. Dance the night away in the second-story party hall featuring golden bamboo floors and wall-to-wall windows. Another option: stage a waterfront garden ceremony.
St. Petersburg Museum of History, St. Petersburg
Floor-to-ceiling windows looking out onto Tampa Bay are just the beginning of the conversation-starting features of the St. Petersburg Museum of History. A vintage airplane hangs over the glass-enclosed First Airline Pavilion, which seats up to 175 for cocktails and dancing. A peaceful garden behind the museum is another great spot to exchange vows.
Clearwater Community Sailing Center, Clearwater
Spectacular views of Clearwater Bay and the Intracoastal Waterway define the airy Carlisle Room and Veranda at the Clearwater Community Sailing Center, perfect for both sunrise and sunset weddings. Up to 180 guests will marvel at views of passing boats and dancing lights. The sailing center is conveniently located across the street from Sand Key Park, which is popular for beachfront ceremonies.
JW Marriott Clearwater Beach Resort & Spa
Welcome to the JW Marriott Clearwater Beach Resort & Spa, where your dream wedding or special occasion will become a stunning reality. Set on the exclusive southern end of one of the world's most famous beaches, your special day will come to life against a breathtaking backdrop of white sands and crystal clear water. Plus, our luxurious accommodations and amenities ensure your guests will appreciate every aspect of their visit.
Artful Elegance
The vibrant arts scene in St. Pete/Clearwater is your canvas for a uniquely sophisticated wedding celebration.
Museum of Fine Arts, St. Petersburg
With a two-story glass conservatory overlooking the water, Spanish-style gardens, a popular park at its front door, and the ability to accommodate parties ranging from intimate receptions to soirees for up to 350 people, it's no surprise the Museum of Fine Arts was named Martha Stewart's top wedding location in Florida. The conservatory and adjoining outdoor terrace provide mesmerizing views of Tampa Bay, and elegant interior gardens feature sculptures, columns and vaulted ceilings. Guests will also enjoy the art galleries and the majestic banyan trees near the museum entrance.
NOVA 535, St. Petersburg
Old is new again in a historic building that has been transformed into a modern wedding venue. Contemporary art on red brick walls creates a chic and warm atmosphere, whether you're planning an intimate dinner for 80 or lavish cocktails for 800. Part art gallery, part sophisticated lounge, the NOVA 535 features Brazilian hardwood floors and twin wrought-iron staircases. An outdoor courtyard lined in bamboo is another great setting.
Kapok Special Events Center & Garden, Clearwater
European statues and vintage crystal bring Old World grandeur to the Kapok Special Events Center & Garden, a one-of-a-kind indoor and outdoor wedding venue. As many as 1,000 guests can wander through gardens filled with Italian fountains, statuary and even a hidden lagoon. There are architectural delights to discover in every room, including the Regency Lounge's golden pyramid ceiling and the opulent chandelier in the Grand Ballroom.
Traditional Charm
A wedding venue steeped in the past ensures enchanting photos.
Andrews Memorial Chapel, Dunedin
A landmark on the National Register of Historic Places, the Victorian-era Andrews Memorial Chapel combines classical elegance and natural beauty. Couples of all faiths are welcome to exchange vows under a rare heart of pine ceiling. A red carpet center aisle is stunning for wedding ceremonies, and the chapel's pews can be removed to host indoor receptions for up to 130 guests. Colorful gardens surrounding the chapel feature a jasmine-covered trellis and butterfly garden.
The Coliseum, St. Petersburg
The arched ceiling and twinkling lights of The Coliseum, a legendary Gatsby-era ballroom, make for a memorable first dance. The ballroom is spacious enough to accommodate large wedding parties of 250 to 2,000 guests but ten private alcoves offer intimate spaces alongside the dance floor. This venue is one of two vintage options run by the City of St. Petersburg--the second is the tropical Sunken Gardens.
Luxurious Resort Weddings
From early 20th-century gems to grand beachside dames, the majestic resorts of St. Pete/Clearwater are rife with glamour and elegance.
The Don CeSar, St. Pete Beach
This palace, built in 1928, has been described as a pink iced wedding cake set on a sugar-white sandy beach - St. Pete Beach, voted TripAdvisor's No. 1 Beach in the U.S. for 2021. The eight-story resort hosts more than 300 weddings a year for as few as two people or as many as 250 guests. Depending on your style, you can choose from a casual beach wedding or a lavish ballroom event.
Vinoy Renaissance St. Petersburg Resort & Golf Club
Located in downtown St. Petersburg, the Vinoy is a 1920s Mediterranean Revival hotel on the National Register of Historic Places. Perched next to Vinoy Park on the waters of Tampa Bay, the Vinoy overlooks the historic downtown. Weddings are held in several ballrooms, as well as an outdoor Tea Garden.
Sandpearl Resort. Clearwater Beach
Situated on the beautiful shores of Clearwater Beach, which routinely lands among TripAdvisor's top five beaches in the U.S., taking the top spot in 2016, 2018 and 2019, the Sandpearl exudes barefoot elegance and approachable refinement. You can exchange your vows in stately ballrooms, elegant boardrooms, on the tranquil pool lawn or in a spot overlooking the Gulf of Mexico beach.