Beach Condos and Vacation Rentals
The variety of accommodations have never been greater in St. Pete/Clearwater. From traditional hotels and motels, to chic boutique homes. Expand the experience and live like a local on vacation!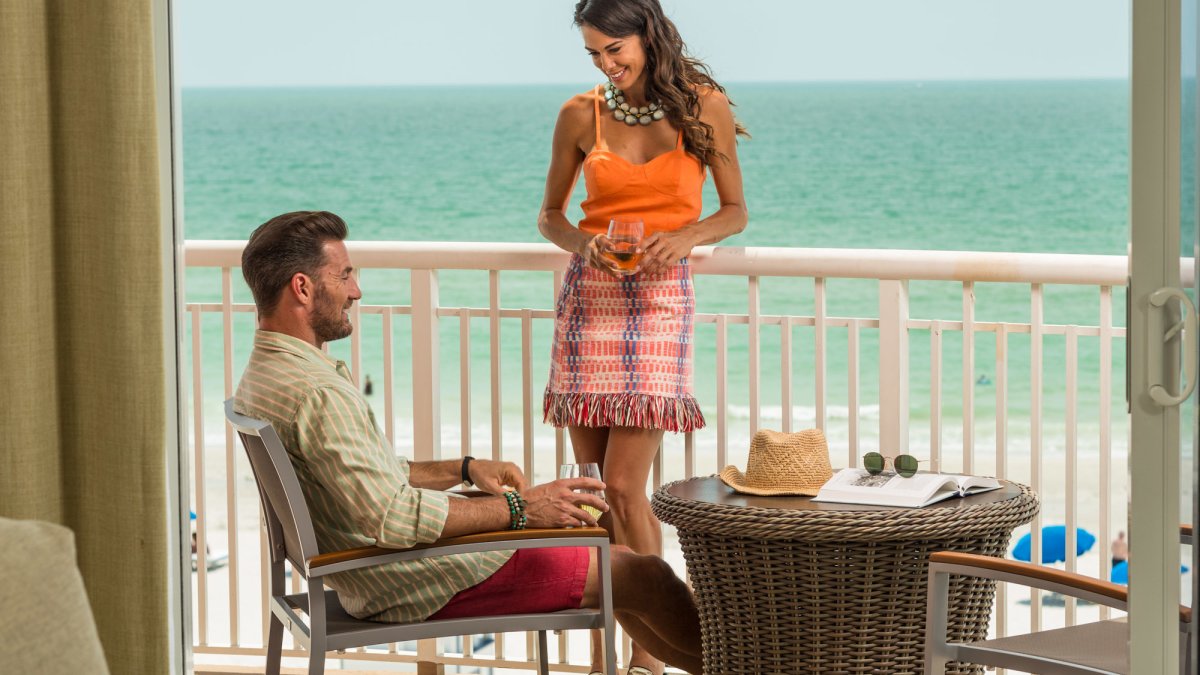 When planning a vacation to St. Pete/Clearwater, think about not just location, but how you want to experience the destination. Are you looking for a pampered experience with concierge services or do you prefer to live like a local and stay in a private sanctuary nearby beaches or bustling downtown streets? If it's the latter, then a beach condo or vacation rental is perfect for you! Think about the following benefits of a vacation rental:
More Privacy (and Quiet): no need to share a room with the kids—with a vacation rental, you'll enjoy multiple, private bedrooms. Plus, think about how great it will be not having noisy hotel neighbors, or an ice machine whirring away outside your door.
More Roomy: another benefit of multiple bedrooms—you can bring your extended family, have a group getaway, or just luxuriate in all that space yourself. Don't forget about that separate living space you can stretch out in, and many condos will also have multiple bathrooms.
More Homey: staying in a vacation rental, you really get all the comforts and conveniences of home. Pack light because you'll be able to freshen up your vacation wardrobe with onsite laundry facilities. Kitchens stocked with utensils and cookware mean you can fix a few home-cooked meals (and save a little money while you're at it). There are even condo rental options, like those offered by Best Beach Rentals, which are pet friendly, if you want to bring your favorite four-legged friend with you (you should, too, because St. Pete/Clearwater is super pet friendly—check out these pet-friendly beaches and restaurants).
Where to Start
While AirBnB or VRBO might be perfect if you want to plan yourself and have a great understanding of the destination, it often helps to speak with expert agents so your stay doesn't disappoint! Check out some recommendations below:
Get a true local's perspective with The Vacation Rental Alliance of the Tampa Bay Beaches, a go-to resource for finding your dream place to stay in St. Pete/Clearwater, whether it's on the beach, or just off the sandy path.
The Vacation Rental Alliance of the Tampa Bay Beaches is a consortium of 12 vacation rental properties providing Condo-tels, which are full-service condos, and self-catering resorts, which are private condos that are like little homes away from home.
Spoiled for Choice: Vacation Rental Highlights
Check out this information on the Vacation Rental Alliance to explore all your options, but here are some highlights about select participating rental management companies:
3 Palms
Specializing in beachfront rentals, choose from dozens of properties along the gulf beaches from quiet Tierra Verde (gateway to the popular Fort de Soto Park and its beaches) to the south, to popular Clearwater Beach to the north.
Hyatt Regency Clearwater Beach Resort and Spa
Made up of 250 condo-style suites, this resort on the north end of Clearwater Beach is nothing short of spectacular. If it's pampering you want, book a treatment at the on-site Sandava Spa; go for dinner and drinks in a cabana by the pool, or pick your spot in the white sands that are just steps away from your room (umbrellas and loungers come with).
Plumlee Vacation Rentals
This Vacation Rental Alliance member specializes in privately owned beach rentals in the small communities of Indian Shores and Indian Rocks Beach. Especially great for families, these neighborhoods are home to relaxing beaches for when you want to chill out, and Splash Harbour Water Park and Smuggler's Cove Adventure Golf when you want to kick up family time.
JC Resorts
Offering only beachfront properties, JC Resorts hosts multiple one, two and three bedroom vacation rentals from Indian Rocks Beach to Madeira Beach—a much roomier option for a home away from home. Their impeccable offering includes on-site guest services, daily newspaper delivery and weekly maid service.
Beach House Suites
If you're looking for a luxurious blend of traditional and non-traditional accommodations, than look no further that the Beach House Suites. This collection of 71 suites by the Don CeSar offers extended stay comfort with home-like amenities. The suites have direct beach access, a heated pool and hot tub, a pool bar and a children's play area.
Madeira Bay Resort
Madeira Bay Resort offers a large selection of 65 vacation rentals.From 65 condo and apartment rentals to 2 studio vacation rentals, find a unique house rental for you to enjoy a memorable holiday or a weekend with your family and friends.