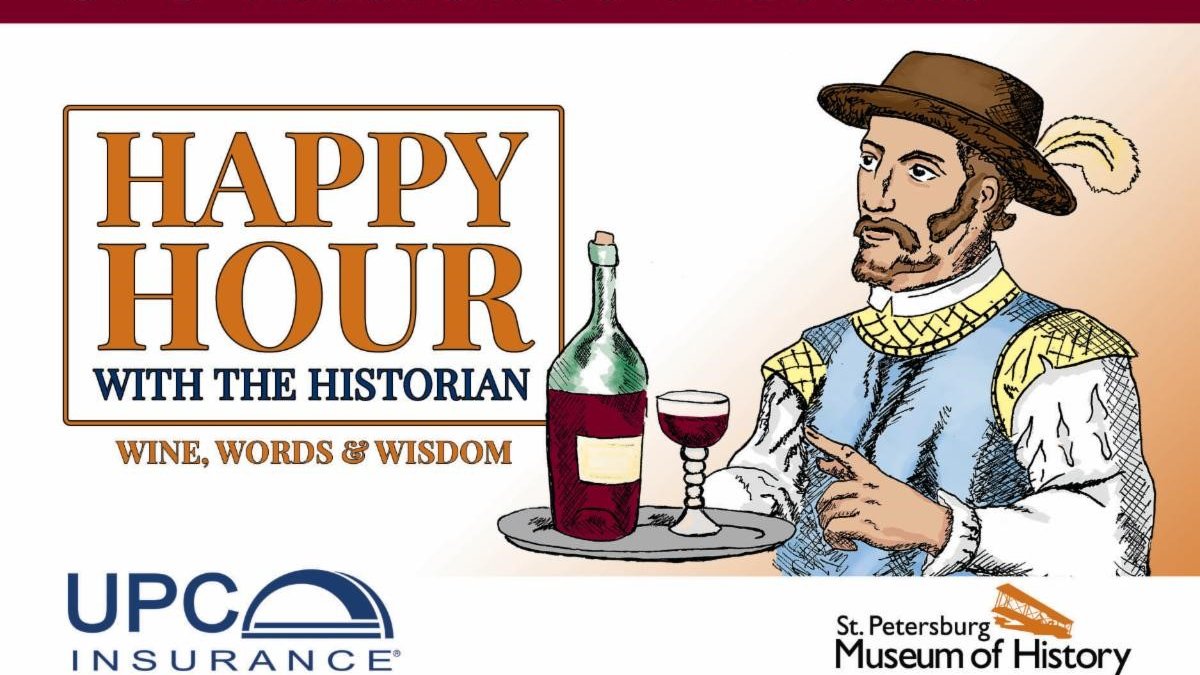 Happy Hour with the Historian
Jan 13, 2022 – Dec 8, 2022
Occurs

Monthly

on the second Thursday
See All Dates & Times
Happy Hour with the Historian—the St. Petersburg Museum of History's celebrated lecture series—kicks off Thursday, Jan.13, 2022, with University of South Florida professor and archeologist Dr. Kathryn Weedman Arthur. 
Held the second Thursday of each month, the regularly sold-out Happy Hour with the Historian events are evenings of wine, words, and wisdom—featuring a slate of speakers that focus on the unique and unusual history of the Sunshine State. The 2022 lineup includes pirates, panthers and St. Pete legends, including the acclaimed interactive Archives of the Americas recently recognized by the King of Spain.
  
The 2022 Happy Hour with the Historian speaker schedule: 
•    Jan 13 - Dr. Kathryn Weedman Arthur Black Heritage Landscapes: St. Pete 1868-1930 
•    Feb 10 - Eric Grey Bases to Bleachers: A Collection of Personal Baseball Stories 
•    Mar 10 - Craig Pittman Cat Tales: The Wild Weird Battle to Save the Florida Panther 
•    April 14 - Kerry Kriseman Accidental First Lady: On the Front Lines (and behind the scenes) of Local Polities 
•    May 12 –Dr. Gary Mormino Dreams in the New Century: Instant Cities, Shattered Hopes, and Florida's Turning Point 
•    June 9 - Bill DeYoung Vintage St. Pete II: Legends, Locations, Lifestyles 
•    July 14 - Joshua Ginsberg Secrets of Tampa Bay 
•    Aug 11 - Robert Jacob Pirates of the Florida Coast 
•    Sept 8 - Dr. Rachel Sanderson La Florida: The Interactive Digital Archives of the Americas 
•    Oct 13 - Dr. Brandy Stark Supernatural St. Petersburg & Paranormal Pinellas: More Lore and Legends 
•    Nov 10 - Rick Vaughn Our Front Yard: 100 years of Baseball History on our Waterfront 
•    Dec 8 - Niles Laughner The Vinoy: From a Wager to Waterfront Jewel 
 
Each Happy Hour installment features a beer & wine cash bar and an opportunity to meet the author/speaker. Admission is free for St. Petersburg Museum of History members and $10 for non-members. Seating is limited. Registration links are sent via email 2-3 weeks ahead of each event. The doors and bar open at 6 p.m. and the program begins at 6:30 p.m. 
 
Event Category