Tanzclubs, Nachtclubs und Lounges
Wenn man den ganzen Tag in der Sonne verbracht hat, möchte man am Abend natürlich seine Bräune und vielleicht auch einige Tanz-Moves zum Besten geben.
Von heißen Nachtclubs bis hin zu coolen Lounges (mit Innen- und Außenanlagen) — in St. Pete/Clearwater und Umgebung gibt es zahlreiche Plätze, um zu sehen und gesehen zu werden. Hier ist nur eine kleine Auswahl.
Angesagte Strandbars in St. Pete
St. Pete/Clearwater lädt entlang der 56 km langen Strandmeile zu vielen gemütlichen Drinks in eine der zahlreichen Strandbars ein. Hier ist ein Blick auf unsere Top-Favoriten an Floridas Golfküste.
Die Canopy Rooftop Lounge
In The Canopy Rooftop Lounge im Birchwood Hotel werden nicht nur Tapas und Martinis serviert. Sie bietet auch spektakuläre Aussichten auf Tampa Bay und die Skyline von St. Pete. Mache es dir in einer privaten Cabana gemütlich und genieße den schönen Abendhimmel bei Sonnenuntergang.
Die Welle im Shephard's Resort
Dieser Nachtclub auf zwei Ebenen am South Gulfview Boulevard in Clearwater Beach besticht durch moderne Beleuchtung und pulsierende Sounds, zu denen braungebräunte und energiegeladene Gäste tanzen. The Wave at Shephard's Resort verfügt zudem über eine Außenterrasse mit Tiki-Bar, wo man direkt am Wasser auf einer großen Tanzfläche die Nacht durchtanzen kann.
Chic-A-Boom-Zimmer & Blur-Nachtclub
Club-hungrige Nachteulen betrachten diese elegante Kombination als die Nachtszene-Oase von Dunedin. Der Blur Nightclub bietet alles, was man von einer heißen Lounge erwartet, aber man sollte sich auf keinen Fall einen Martini in dem im Retro-Stil gehaltenen Chic-A-Boom Room entgehen lassen.
Historischer Gulfport Casino Ballsaal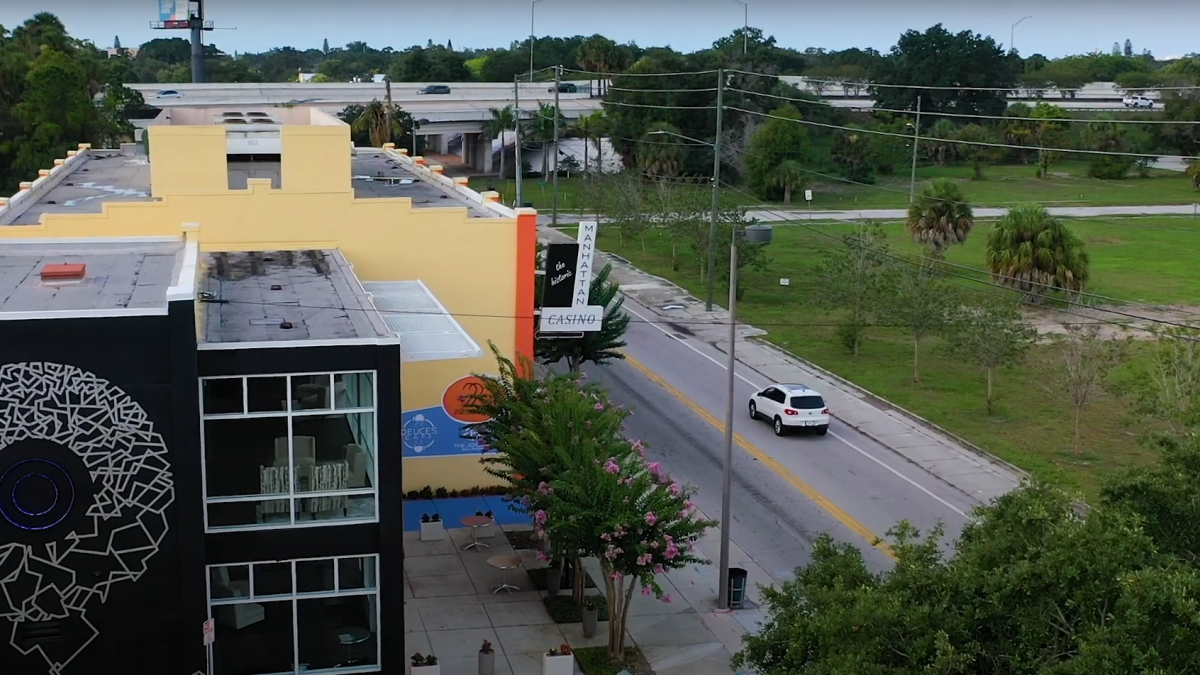 Du möchtest zu einem anderen Beat tanzen? Dann kannst du dich jeden Mittwoch im Historic Waterfront Gulfport Casino in Gulfport in das Zeitalter des "Swing" versetzen lassen. Die Swing Night findet im wunderschönen Grand Ballroom auf der Uferseite auf einer der besten Tanzflächen aller Zeiten statt. Dieses beliebte Event zieht jedes Mal Hunderte von Tänzern an. Du kannst an einem Tanzkurs teilnehmen (Partner ist nicht erforderlich) und anschließend dein Können vorführen.